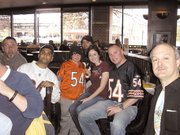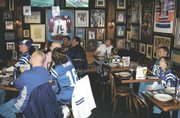 It was a Sunday in early September and Jay Patel, who had just moved to the area late last spring, was in Bugsy's Pizza Restaurant in Old Town Alexandria watching his beloved New York Giants.
He happened to take a seat at a booth next to Dan and Mel Hampton, a young couple who had been coming to the upstairs sports bar portion of Bugsy's every Sunday for four years. Mel is an Indianapolis Colts fan, while her husband supports the Philadelphia Eagles jersey. The three didn't know each other then, but the pattern continued as the weeks moved along.
Patel would show up in his Giants gear and the Hamptons, who bike to Bugsy's from their home in Belle Haven every week, came in their NFL garb.
Flash forward to this past Sunday, as Mel's Colts took on the Houston Texans, Dan's Eagles faced the Cincinnati Bengals, and Patel's Giants matched up with the Baltimore Ravens, and the three were still sitting together, having formed an unlikely bond.
"We try to help each other out," said Mel. "We root for each other's teams."
<b>THE SCENE</b> at Bugsy's every Sunday is echoed throughout Alexandria, as many transplants from outside the area come together with local fans at various sports bars around the city to watch their respective hometown NFL teams.
"There are just a lot of people from all over the place," said Jordan Willis, manager of Joe Theismann's Restaurant in downtown Alexandria. This past Sunday, Theismann's was packed for the 1 p.m. NFL games, as fans from New Orleans, Miami, New York, and Chicago watched on the 13 televisions around the bar.
Something like this doesn't happen with other sports, which have games more frequently and fans less passionate. Ankur Shah and Colin Smith, roommates who just moved to Alexandria in August and root for the Chicago Bears, said they heard about coming to Theismann's through word of mouth. After meeting several other Bears fans, they won't go anywhere else, even if they could watch the game from the comfort of their own apartment.
"We've all gotten to know each other here, so we kind of like coming now because we know each other now," said Shah.
Many fans echo the sentiment of Shah, saying the camaraderie of a sports bar is much more appealing than having to shell out money for exorbitant ticket prices or invest in the DirecTV NFL Sunday Ticket package that allows viewers to watch every single NFL game.
"You can root for your team and argue with other people and discuss the game more in detail than someone who is mad at you at a stadium," said Neil Lindenbaum, who watched his Packers defeat the Bears, 37-3, alongside his son and father at Bugsy's this past weekend.
<b>SOME ALEXANDRIA</b> residents take their out-of-town fandom to the extreme. At Murphy's Grand Irish Pub in Old Town, a group that calls itself the Murphy's Patriots show up in droves every time their New England Patriots play.
Back in 1994 when Murphy's bought its first satellite dish in an effort to show more sporting events, the pub's staff also decided to allow the bar regulars to vote on what team the place should support.
The Patriots won the vote and now every time a game is on, the entire upstairs portion of the restaurant is usually standing room only and completely taken over by mass chants and New England jerseys.
"If people are downstairs, they come up and ask 'What's going on up here,' because all you can hear is boards going and people screaming," said bartender Samantha Pallo, who has worked the Patriots games the past three seasons. "I can't tell if they scored or they just tackled somebody because no matter what it's just yelling."
In such a transient area like Alexandria, it makes sense that so many different fans flock to so many different sports bars. In doing so, though, these fans become attached to not just a certain team, but also a certain place and a specific atmosphere.
Last Sunday, Patel watched his Giants squash the Ravens, 30-10, from the familiar confines of his booth at Bugsy's even though he could have been watching the game on local television, since the Redskins didn't play until Sunday night.
"I just like talking with people who you normally wouldn't talk to or at least would talk to on a different basis," said Patel.