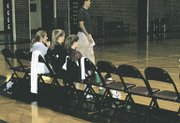 Listening to him talk about his Episcopal girl's volleyball team this season, it's hard not to think that coach Mike Petock might have a promising career as a doctor.
Petock, along with his already small squad of eight girls, have had to endure a litany of injuries that even the coach has trouble keeping track of.
First it was junior Chelsea Summers, who was lost for the season after re-aggravating an ACL injury in August. Then two weeks ago, it was senior Katelyn Halldorson, who was forced to sit out after injuring her foot from overuse. Then last week, junior Sara Shiels went down with a thumb injury.
If that weren't enough, junior Sarah Dillard came down with an inflamed shoulder this week that has put her availability into question. The injury bug has forced Petock to elevate three girls from Episcopal's JV squad — and brush up on his medical lingo.
But despite losing half his original team, 11 matches into the season Petock and the Maroon have lost just twice, displaying a resiliency unbecoming of high schoolers.
Tuesday night the Maroon continued their winning ways, scoring a 25-7, 25-14, 25-13 victory over Holy Child.
"We try to train players at whatever level they're on to have good skills," Petock said of the JV players he is now using. "And at some point we are going to have to use them and some have had their schedules accelerated."
Through it all, Petock has remained even keeled and kept his team thinking about what's most important: winning and having fun. Although the injuries are nothing to joke about, Petock, who is in his second season at Episcopal, can't help but laugh at his team's plight. Last year, when he had more players on the varsity team than he knew what to do with, the Maroon had no major injuries.
He's learned the hard way this season that luck can be a funny thing.
"It's almost like feast or famine," said Petock, noting that in his 20 years of coaching he's never had this many injuries at one time. "It's just a fluke, I think."
Petock credits the play of his remaining veterans, who have had to pick up even more responsibility than expected, for keeping the team on the winning track thus far. Junior Mary Foran, who had 24 kills in Episcopal's 25-14, 28-26, 25-13 win over O'Connell last week, has been the catalyst and according to Petock, should merit some consideration in conversations about the best volleyball players in the region. Seniors Breanna Jones and Claire Channell have also been steadying influences, particularly in integrating all the new players to the team.
And though it has worked thus far, it's a safe bet Petock doesn't want the juggled lineups and newfound medical prowess to turn into a career.
"We're just going to do the best with what we got," Petock said. "Other girls have stepped up trying to help those around them to improve their game, so we don't miss a beat."