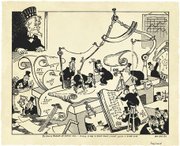 Some people like to call the final stretch of the presidential campaign the "silly season," and certainly the final election stretch brings a fair amount of frivolity. Yet none of the campaign-trail highjinks are nearly as entertaining as the work of Theodor Seuss Geisel, the artist popularly known as "Dr. Seuss." Sure, his tongue-in-cheek posthumous campaign for president might not have gotten as much press as the major parties that dominate the news. But that won't stop the P&C Gallery on King Street from holding an official campaign kickoff party to inaugurate an exhibit called "Dr. Seuss for President."
No, Dr. Seuss is not really running for president.
But exhibit organizers say the timing was just too good to pass up. After all, here we are in the midst of the craziest election season ever. Meanwhile, the Geisel's artistic legacy has grown more complex in recent years since the artist's death in 1991. The 1995 release of a coffee table book "The Secret Art of Dr. Seuss" illustrated that the man who created universally loved children's books was also capable of crafting sophisticated oil paintings that were whimsical yet sophisticated. Then the 1999 publication of "Dr. Seuss Goes to War" revived the leftist political cartoons Geisel created during World War II for the now-defunct New York magazine known as PM. Now his widow has authorized limited-edition recreations of his drawings, illustrations, paintings and sculptures.
"His true genius was that his work is done with such finesse and humor that that few people even know he was being political," said William Dreyer, curator of the Art of Dr. Seuss. "He doesn't hit you with a hammer, but you certainly get the message."
<b>THE ART OF</b> Dr. Seuss is a project that was launched in 1997, allowing collectors to see and acquire lithographs, serigraphs and sculpture reproduced from Geisel's original drawings and paintings. The Illinois-based Chase Group became the exclusive publisher, and Alexandria's P&C Gallery became one of a select number of locations to sell the limited-edition works of art. For the last decade, visitors of all ages have been drawn to the whimsical collection celebrating the work of a man whose work is almost universally recognized.
"I think he was a genius," said P&C gallery director Zoe Atarodian, adding that her favorite is "Oh, the Places You'll Go." "A lot of people grew up with Dr. Seuss, and so this is something they want to pass on to their children."
In his career, Geisel created 44 children's books, more than 400 political cartoons and hundreds of advertisements. It was a creative path he forged as a child, when he would create sculptures from animal parts his father would bring home from his job as superintendent of a Massachusetts zoo. Over the span of his career, he single-handed created a new genre of art that falls somewhere between the surrealist movement of the early 20th century and the inspired nonsense of a child's classroom doodles.
"Everybody can relate to Dr. Seuss, whether you're young or old," said Nathalie Johnson, art consultant at the P&C Gallery, adding that her favorite is "Horton Hatches the Egg." "His fans span three generations now, and most people who come into the gallery immediately recognize the art of Dr. Seuss."
<b>THE EXIBITION</b> "Dr. Seuss for President" was timed to coincide with the release of a cartoon known as "The Knotty Problem of Capitol Hill: Finding a Way to Raise Taxes Without Losing a Single Vote," which is the first-ever political Dr. Seuss print edition. The works on display will feature politically charged artworks as well as 11 information panels offering an insight into the deeper meaning behind selected works of Dr. Seuss. For example, "The Lorax" is an argument for corporate responsibility and resource conservation; "Yertle the Turtle" was written to oppose fascism; "The Sneethes" offers a message of racial diversity; and "Horton Hears a Who" was a parable on democracy.
"With an election year upon us, we thought the timing was perfect," said Dreyer, who will deliver a presentation about Geisel's work at the opening reception on Oct. 4.