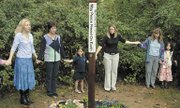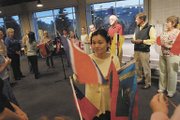 Rainy weather encouraged an indoor World Peace Prayer Ceremony on Wednesday, Oct. 1 at Unity of Fairfax Church in Oakton. But the community spilled outside for a brief dedication and blessing of a newly planted Peace Pole and the "peace garden" surrounding it. Indoors, a ceremony involving 190 flags from the world's diverse countries was conducted by visiting representatives of the World Peace Prayer Society. Senior Minister Donna Johnson encouraged all present to "feel the peace within" as the first step to creating a peaceful world around us.
World Peace Prayer Society representatives Masayo Shibamoto, Maki Yamoto and Uran Snyder shared their vision for peace in this ceremony. Their visit to the D.C. area is part of their quest to travel the globe, planting peace poles and conducting ceremonies for peace. Local Peace Prayer Society member Terry Liu helped to make the connections for this event, as well as for a peace pole to be received by the U.S. Coast Guard.
The peace pole planted at Unity includes the words "May Peace Prevail on Earth" in four languages, written on the sides of the pole. The Unity
community chose English, Japanese, Spanish and Arabic as its four languages.
The pole is planted in the midst of a peace-symbol garden. The peace symbol was created with white quartz rocks from the surrounding area, and is filled with colorful array of flowers. The children, teens and adults of Unity all worked together to create this symbol of our commitment to a peaceful world.
"This was an intergenerational effort, fulfilling a vision we've long held
in our hearts," said Kathryn Ashera, Director of the Youth and Family
Ministry.
The pole is a natural cedar wood, reflecting the fact that the meditation garden is an official wildlife sanctuary. The "Heart Haven" meditation garden at Unity also houses a variety of plantings, a bubbling fountain and a native American-inspired medicine wheel. According to Unity's landscape designer Rick Hartley, the garden reflects Unity of Fairfax's commitment to the environment. Unity also hosts a living "green roof" on its flat-topped Mildred Park Center.
Unity of Fairfax Church is located at 2854 Hunter Mill Road in Oakton. For more information, see Unity's Web site at www.unityoffairfax.org. Members of the greater community are welcome to come and visit the campus and meditation garden.