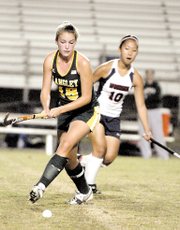 It was a familiar scene in color only. Sure, the green uniforms with "Saxons" glowing across the front in gold lettering evoked memories of last year's Liberty District final against Woodson as the Cavaliers donned their white and blue tinged with red.
Though still two weeks away, district tournament time is fast approaching and that's generally a cue for those colors to clash, for Langley and Woodson to renew a field hockey rivalry.
But, with a significant amount of losses from that 2007 Langley team which reached the district final and Northern Region semifinals, only the uniforms remained static when these two met at Woodson High School on Monday night.
"It's a different year for us this year," said Saxons coach Jennifer Robb, following a 3-0 loss that dropped her team's record to 3-10 overall, 0-4 in the Liberty District. "We lost 13 kids off of last year's team, which is a whole lot of talent to lose, but we have a lot of great kids and we've lost a lot of close games."
<b>NOT THAT THE</b> losses have curtailed Robb's enthusiasm. Never one to silently pace up and down the sideline, Robb jumped up and down frequently on Monday, encouraging clear attempts and bemoaning missed opportunities.
At one point, comically, Robb even made a mid-game stop at the scorer's table to figure out exactly how many shots her team had surrendered. With an opening half full of offensive pressure from Woodson, Robb figured there'd be some gaudy number staring back at her, but, really, it wasn't all that bad. It was certainly less than Robb expected.
"I was surprised by the shots because I felt like they had [the ball] down in our circle a lot," said Robb, whose team surrendered eight shots, eight penalty corners and three goals in the opening half. "It felt like we were constantly in [our] circle during the first 20 minutes of the game, but they definitely had offensive possessions in the circle that were quite difficult for us to defend against."
Robb has turned to a different batch of players this season. Her three senior captains, Katy Wingo, Cate Wilson and Maggie Kovacs, have all done a more-than-admirable job of shouldering the load. Kovacs totaled two goals and four assists last season, while Wilson finished with five goals and two assists. Wingo chipped in with two goals and an assist.
Still, because of last year's talent, Langley's depth and experience beyond those three was uneven.
"[The postseason experience] was great, but unfortunately I don't have that many kids on my team that have experience against Woodson," Robb said. "I have six seniors on my team and only three of them ever saw any time on the field last year. I don't have a lot of kids that have that experience."
<b>IN LAST YEAR'S</b> Liberty District final, Woodson avenged a regular season loss to the Saxons and notched a 2-1 win, courtesy of Shelly Montgomery's goal with 14 seconds left in the second overtime period. For Langley, the loss snapped a 17-game winning streak.
But in the region tournament, Langley appeared to bounce back behind efforts from midfielder Faith Adams, forward Katie Knapp and goalkeeper Kelly German -- three players who were lost to graduation – and the Saxons reeled off two straight wins.
An eventual loss to Oakton ended Langley's season and has even served as a motto: Even though the losses might come early, there's always the postseason.
"We know that it comes down to the district tournament and the regional tournament and that nothing is over," said Robb, whose team squared off with South Lakes on Tuesday night, which ended after The Connection went to press. "That's the great thing about field hockey is that we still have our opportunities to make our place known, and hopefully we'll come out here in a week or two and we'll play better."