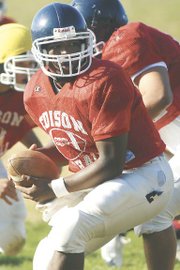 In the months following the 27-14 loss to Stone Bridge in the 2007 Northern Region Division 5 title game, Edison football coach Vaughn Lewis knew the shape that he wanted his team to take in 2008. He also had a premonition as to how he felt a certain position battle might shake out.
The problem?
Originally, Lewis didn't know the two thoughts were related. But, since junior Levi Barber trashed his coach's prediction by becoming Edison's starting quarterback, life couldn't be sweeter for both the 14-year coach and the quarterback who wasn't expected to win the job.
As the junior varsity quarterback last fall, it was not a certainty that Levi Barber was ready to take the reins from his older brother Ben, who racked up 32 touchdowns last year and whose final game was the Stone Bridge loss. None of that skepticism came from within the Barber family.
"There was no uncertainty on my part," said Ben Barber, who received a gray shirt from Virginia Tech and will begin football practice and classes there this spring. "I knew Levi had the job."
As the team tore into its off-season conditioning program, Lewis expected to play senior wideout Corey Washington at quarterback, fully aware that he'd be sacrificing his No. 1 receiver. But Barber, who focused on agility drills, treadmill work and a rigorous weight training program during the off-season, ultimately enabled Washington to stay out wide.
<b>LEWIS TAPPED BARBER</b> to start after Edison's second scrimmage and the rest has pretty much been déjà vu: The Eagles, with a Barber under center, have been winning football games.
"All summer I worked hard," said Levi Barber, at 5-foot-11, 200 pounds. "I worked on my agility. I worked on my speed and I worked on my reads. Because I knew that if I came out and worked hard that I'd be the quarterback."
"Our option was Corey, which isn't a bad choice, or Levi," Lewis said. "But by Levi doing the things that he does, that allowed us to put Corey in the slot, and that's one more athlete we can try to get the ball to in open space."
Edison carried its unbeaten record to Yorktown High School last Friday night, expecting a National District battle against the 4-1 Patriots. However, that prognostication was nearly on par with Lewis' preseason pick.
The Eagles rumbled to a 38-0 win, totaling 419 yards of offense and scoring on every first-half possession. Two of Levi Barber's three completions went for touchdowns and the signal caller contributed 156 total yards.
"This was a great stepping stone to come out and show everybody that we're on top of the National District," said Levi Barber, whose team is now 6-0 overall, 3-0 in the district.
"We knew it was going to be a big game, so we just did the little things and the big things took care of themselves," said junior running back Angus Harper. Last Friday, he rushed for 126 yards and two touchdowns while bolting 67 yards for a score on the game's first play from scrimmage.
<b>LEVI BARBER RAN</b> five times for 76 yards against Yorktown but wasn't the team's primary running threat — a fundamental difference between the Barber brothers. Ben Barber, who led the Eagles with 1,000 rushing yards last season, was a converted wide receiver and a more explosive running threat.
"Levi is more of a pure passer than I was," Ben Barber said. "He's more willing to stay in the pocket, deliver the football and make plays with his arm, where I was more willing to run and make plays than pass. He's a much better [pocket] passer than I was."
And though Ben Barber was as physically gifted as they come, he was still an athlete playing quarterback, not a quarterback who was an athlete.
Levi Barber, conversely, spent those last two seasons on the junior varsity squad, learning the nuances of being a quarterback. According to Lewis, the younger Barber understands "what we're trying to achieve and because of that our offense has been more effective this year with spreading the ball out."
Levi Barber doesn't mind correcting his coach.
"We call our offense at the line of scrimmage, and it's pretty complex," Lewis said. "[Levi] just goes in there, and we'll put somebody on the wrong side and he'll correct us. He'll say, 'Coach, he's got to be over there,' and I'll say, 'Thanks, Levi.'"
Lewis wouldn't have it any other way. With Levi Barber at quarterback, the coach has utilized Washington's play-making ability in the slot. In the backfield, Harper and Robertson have supported Levi Barber. Both are capable of breaking a game open at any moment.
"He is 500 percent better than he was last year," said Lewis, of his quarterback. "He's turned into a very fine quarterback. It's been a big surprise and it's been a great surprise."