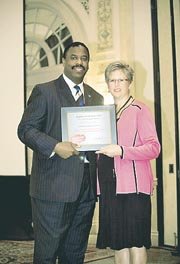 Send announcements or events, which are open to the public at no or minimal cost, to The Loudoun Connection, 7913 Westpark Drive, McLean, VA 22102 or e-mail <a href="mailto:loudoun@connectionnewspapers.com">loudoun@connectionnewspapers.com</a>. Deadline is Friday, two weeks before the event. Photos/artwork encouraged. For more information, call 703-917-6454.
All local area vendors are invited to attend Loudoun County Procurement's 2008 buyer/seller information exchange sessions. These sessions are to provide information on the county's procurement processes and upcoming contracts. The sessions will take place Monday, Oct. 20, at 10:30 a.m.; Thursday, Nov. 20, at 2 p.m.; Thursday, Dec. 18, at 2 p.m. For locations call 703-777-0403 or send an e-mail to Rebecca Kummel at procurement@loudoun.gov.
In honor of breast cancer awareness month downtown Leesburg will mount the fourth annual Paint the Town Pink campaign during the month of October in memory of former downtown business owner Marilyn Helms-White. This year the campaign will include businesses decorating their business windows and entrance in the "pink" theme, handing out breast cancer awareness fliers from the American Cancer Society to all clients and many businesses have donated products or services for a downtown prize basket drawing. Donation proceeds will go to benefit downtown patron Barbara Beck and her family of Ashburn who has recently been diagnosed with breast cancer for the second time and will be undergoing a second mastectomy in the middle of October. Prize baskets, each worth more than $100 will be on display at Gill Wellness Center, Eyetopia Inc., Otter Creek, Petite Dekor and The Pink Shop, Oct. 3-31 with the prize drawing to be held Nov. 1. All donations from prize drawing entries will be donated to benefit the Beck family fund. All questions regarding the Beck family fund should be directed to Shannon Gill Burnett of Gill Wellness Center 703-727-5271.
Curves of Ashburn, 20604 Gordon Park Square, unit 150, will be offering the Liv Aid breast self-exam kit during October, which is Breast Cancer Awareness Month, to help women become more comfortable performing their monthly at-home exams. Nonmembers can get a free Liv Aid when they come in to the fitness center and experience a CurvesSmart demonstration. Curves members have a variety of ways to obtain a Liv Aid, including showing proof of a mammogram within the last 12 months. Liv Aids are also available for purchase by anyone in the community. For more information on Curves of Ashburn or details about how women can get a free Liv Aid breast self-exam kit, contact Sonja Beiler or Dawn Manausa at 571-223-0123.
Let's Dish!, with a business in Ashburn, has expanded its Pink Dish! Campaign, a breast cancer awareness and assistance program, in 2008. Last year, the company donated hundreds of preassembled and easy-to-cook dinners to families touched by breast cancer. The expanded program promises even more free meals including "Let's Dish! For a Year" to one deserving family, further breast cancer awareness education for the company's extensive, mostly-female customer base, as well as the opportunity to honor survivors with a special "e-Dedication;" this new feature will offer complimentary sweet treats as an incentive for customers to spread the word about early cancer detection.
The One Loudoun development team has entered into a partnership with Loudoun County Public Schools to improve landscaping surrounding Steuart W. Weller Elementary School.
One Loudoun has given the public school system a gift of $20,000 to augment the standard landscaping package at the county's schools. The funds will go towards planning and materials to beautify the exterior of the school. Steuart W. Weller Elementary School, which opens in September, is located on proffered land from One Loudoun on Marblehead Drive near the intersection of Loudoun County Parkway.
The Loudoun County Chamber of Commerce named the 34 finalists selected to compete in nine business categories for the 2008 Small Business Awards. The winners in each of nine categories will be announced at the Annual Gala Awards dinner Nov. 6, at the National Conference Center. Visit www.loudounchamber.org/CWT/External/WCPages/WCNews/NewsArticleDisplay.aspx?ArticleID=30 to see the finalists.
A locally based South of the Border-theme restaurant and a national chain featuring all-American cuisine plan to open late this year and early in 2009 at Brambleton's Town Center.
Cantina Cove, opening in early 2009, will spotlight a Mexican-theme with new twists, including tableside, freshly made guacamole, specials, outdoor seating and a second-story mezzanine.
Reminiscent of "feel-good Americana," Johnny Rockets plans to open in mid-November with a menu that includes hamburgers, hand-dipped shakes and malts, and freshly baked apple pie.
Zachary Casagrande, DDS, who opened his practice earlier this year, operates Northern Virginia Orthodontics, also at the Town Center. A Brambleton resident, Casagrande is a board-certified orthodontist and a provider for Invisalign, an invisible braces provider. He sees pediatric, adolescent and adult patients.
Loudoun Dental Institute, with Mahnaz Jafari, DDS, opens a practice of general dentistry in August at the Town Center. Jafari offers a general dentistry practice for all ages and specializes in implants and cosmetic dentistry.
Coming Oct. 1 is Lisa Settle's destination-shopping spot, The Pink Polka Dot, offering designs for the fashion conscious, the home and new little arrivals. A grand opening is planned mid- to late October.
The newly enhanced Black Olive Sports Bar at The National Conference Center has opened. It includes 16 42-inch, flat-screen televisions, extensive menu, top-shelf beer, wine and liquor as well as several pool tables and Wii Lounge.
Radiology Imaging Associates has installed the newest and highest-resolution MRI scanners available, the Achieva 3.0T system from Philips Healthcare.
Because of the level of anatomic detail it provides, the Achieva 3.0T can assist radiologists and physicians in the earlier diagnosis of a variety of medical conditions, including brain disorders and/or cardiovascular disease. The new 3.0T MRI will be patient ready in mid September at RIA's full service diagnostic imaging facility at Lansdowne.
In September, DivaFit Pole Dancing Studio of Ashburn celebrated its two-year anniversary by raising more than $1,000 for The Breast Cancer Research Foundation with for-donation classes and performances. Beginner and advanced classes were offered free to the public and donations to The Breast Cancer Research Foundation were accepted. The public fund-raiser event was followed by a client appreciation Casino Royale-themed bash. During the casino night, current students and instructors enjoyed games, danced and made donations to The BCRF.
Independent Insurance Center (IIC) has relocated from its downtown Leesburg office to Lansdowne Office Park, 19465 Deerfield Av., Suite 210, across from Inova Loudoun Hospital.
Zazu, a locally owned gift and stationery store in Ashburn, has published its very first blog, "The Little Blog that Could," www.shopzazu.blogspot.com.
The Helping Hands committee of Allstate's Capital Region Office in Fairfax recently accumulated enough clothing, furniture, school supplies, bikes, scooters, decorations and 27-inch televisions to furnish several apartments at Loudoun's Transitional House facility and for a family transitioning to their own home. The group also supplied all the needed school supplies for every child at the shelter.
The committee has sponsored the shelter in the past with food and other assorted items at Thanksgiving and Christmas.
Leisure World of Virginia's Clubhouse West was honored by the U.S. Local Business Association (USLBA) with its "2008 Best of Leesburg Award" in the Retirement Communities & Homes category. A Washington D.C.-based organization funded by local businesses across America, USLBA's annual award program identifies companies that enhance the positive image of business through service to their customers and community.
The Loudoun Convention & Visitors Association (LCVA) has won the Virginia Tourism Corporation "Passionate about Spreading the Word" award for its recent community awareness program. Alisa Bailey, president of Virginia Tourism Corporation, presented the award to Cheryl Kilday, LCVA president and CEO at the recent VA-1 Conference in Roanoke.