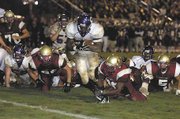 Torrian Pace does not catch your eye with flashy moves or breakaway speed. At first impression, his game might even seem bland and simply workmanlike. But upon a closer look at the Chantilly senior running back, one notices his steady, upfield running ability and his ease in shedding off charging, would-be-tacklers.
Inevitably, Pace, one of the top players in the Northern Region, has put together a big game and helped Chantilly get into the win column.
"He's just a physical, strong runner," said Chantilly coach Mike Lalli. "He's gifted as far as his size, has good speed and is a good power runner."
As a junior last year, Pace, rushed for 1,200 yards and averaged almost 11 yards per carry. This season, Pace, through six games, has rushed for 922 yards and 11 touchdowns on a 4-2 Chantilly team that competes in the ultra-tough Concorde District. Within the Chargers' Pro-I, two-back offense, he has carried the football an average of 18 times per game.
"He's been doing that a couple of years now," said Oakton coach Joe Thompson, of Pace's game-to-game consistency in blasting ahead for chunks of yardage. "He's a heck of a runner and he's running behind a heck of a line."
<b>PACE</b> did not even play football until he got to high school. He was a youth soccer player growing up and decided to come out for football as a freshman. He played defensive back and some running back that ninth grade year as a member of the freshmen team.
"He was very big as a freshman at 180 pounds, and fast," recalled Lalli. "He was raw, but we knew he had the ability to be a football player. He's groomed immensely [since], not just as a running back but as a football player."
As a sophomore, Pace became an impact player at running back for a Chantilly varsity team that won the region title and got all the way to the state AAA finals. In the Chargers' state semifinal win over Varina High School of Richmond, Pace rushed for just under 100 yards. One week earlier, he had gained 70 yards in Chantilly's 23-21 region title game triumph over Westfield.
Pace made his first start that 10th grade year in a Week 3 game against Madison. He was a big part of the offense from then on.
"I enjoy the sport," said Pace. "It's team oriented. I stuck with it and I enjoy it. [That sophomore season] was really fun and I enjoyed hanging out with my teammates. Our practices were well organized."
<b>PACE LOVES</b> the thrill of carrying the football. Even in games when he is not gaining his usual amount of yardage, he keeps working hard with each carry or blocking assignment. By game's end, he has often worn opposing defenses down.
In Chantilly's 17-15 loss at unbeaten Oakton last Friday night, Pace was limited to just 19 yards on nine carries in the first half. Not surprisingly, the Chargers trailed the Cougars 17-0 at halftime.
But it was a different Pace and a different Chantilly team in the second half. In 12 carries, the skill position standout rushed for 54 yards on 11 carries as the guests got back into the game.
His 5-yard scoring run, in which he easily broke through an arm tackle off the left side before getting into the end zone, got the Chargers within 17-15 late in the ball game. Chantilly's second half success seemed to mirror Pace's step-up play.
"He's a powerful runner, a big strong kid and a real workhorse for them," said Oakton senior quarterback Chris Coyer. "He played well."
Pace, a first team member of both the All-Region and All-State teams last year, is a good student and Vice President of his senior class.
Lalli said numerous colleges have shown interest in recruiting the popular football player. For now, Pace's focus is on the football field and helping Chantilly be the best team it can be.
"We can be real good, we just have to stick together," said Pace. "If we play as a team, we know we can do well."
More like this story