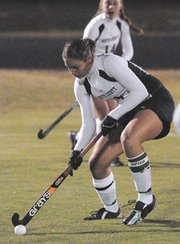 It's the equivalent of football's Hail Mary play, ice hockey's penalty shot, basketball's last-second heave or a bottom-of-the-ninth, two-out single in baseball. In field hockey, nothing is quite like the excitement of a penalty corner.
When one team commits a foul in the other team's offensive zone, the referee's whistle is blown and anticipation builds, players knowing all too well that the game's momentum could switch at any second. It's an opportunity that teams, naturally, seek to capitalize on.
For a penalty corner, five defensive players stand in the goal while one offensive player attempts to hit a ball from the back line to a teammate outside of the offensive circle.
Outside of the obvious intention of scoring, one must do it fast before five sprinting defensive players arrive from the field's midpoint and the other five defenders emerge from the cage. Speed, strength and stick skills are all required.
Though the penalty corner isn't Megan Rea's only talent, it's yet another moment in which opposing coaches are forced to take note of the South County midfielder.
"On penalty corners, she's a scary person," said Lake Braddock coach Diane Miller, whose Bruins snuck by the Stallions with a 3-2 win on Tuesday night. "You have to get out there on her because if she gets a hold of [the ball], it's going to be a pretty hard shot."
<b>WITH LESS THAN</b> 10 minutes to play and the game tied 2-2, South County was able to work a pass off of a penalty corner to Rea. Although the shot was ultimately deflected, Rea's blast still garnered its usual amazement.
Whether it's a strong hit, a pinpoint pass or just showing off by tapping the ball backward between her legs, Rea has been many things for the Stallions this season. On the other hand, Rea's pride-swelled coach could only think of one word to describe the player she says is the "best high school field hockey player I've coached."
"She's just so dynamic," said Leah Conte. "There's just no other word to describe her. She can do pretty much anything with the ball."
And so Rea did on Tuesday night. Sure, some moments were comical, like when she nine-ironed a shot over the goal's upper right elbow early in the first half.
Another time, about 20 minutes into the first half, Rea picked a ball out of Lake Braddock's offensive zone, spun around and without looking, delivered an on-point feed to a streaking teammate, senior Megan Wears, who scored both goals against the Bruins.
Rea, who is also one of the Northern Region's most accomplished defenders on the soccer field, enjoys the simple pleasures that field hockey has to offer.
"I like getting the ball up to my forwards and giving them the opportunity to score," Rea said. "I like more of the passing game in field hockey where in soccer I usually just kick it."
<b>AFTER ATTENDING</b> a field hockey clinic in the winter of 2005, Rea, then in eighth grade, started her career. That fall, she started with the South County field hockey program under Conte's direction. In three-plus years, Rea has amassed 23 career goals, 17 assists and was named the Co-Patriot District Player of the Year last fall along with Lake Braddock's Katie Klatt.
So, for someone who didn't started playing the sport until eighth grade but still succeeded right away, how in the world did all of this happen?
"I think she has matured tremendously over the four years I've been here, but just in the past two months she's really stepped up," said Conte, whose team is 12-3 overall, 5-1 in the Patriot District. "I love soccer players because they understand field hockey and it shows. It shows in how she plays."
"I guess some of it's mental, but I've played sports since my brother [David, 19] and sister [Nicole, 21] played," said Rea, who, as a devout Redskins fan, couldn't be more thrilled with the team's 4-1 start. "I played field hockey because my sister played, and then I ended up liking it more than soccer."
It's a preference that's just fine with Stallions soccer coach Maureen Saale, as long as she gets her star defender back this spring.
"I'm just glad that we have the opportunity to have her in the spring," said Saale, whose team only allowed 11 goals last season and finished 13-1-2. "I know that field hockey is her passion, and I do know that she's an asset to us on the soccer field. But if I compare the two, I know that she's the player on the field hockey team that they really look at to be successful."