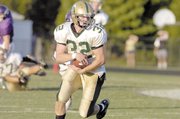 The Madison High football team continued its winning ways last Friday night with an 18-14 come-from-behind win over Langley. The Liberty District game took place at Langley. Madison (4-2) won its fourth game in a row since an 0-2 start. The Warhawks, a younger squad compared to last year's successful Div. 5 playoff team, will look to make it five straight wins when they play at W.T. Woodson this Friday night.
Langley (3-3) lost its second straight since beginning the season 3-1. Two weeks ago, the Saxons lost to unbeaten Oakton, 42-3. They were looking to get the bad taste of that defeat out of their mouths when they hosted Madison.
The Saxons opened up the game's scoring with a four-yard touchdown run by David Helmer (29 carries, 164 yards) in the first quarter. Madison's James Devens kicked a 44-yard field goal in the second quarter to get the Warhawks within 7-3 at halftime.
Langley took a 14-3 lead in the third quarter on another four yard TD run by Helmer, but Madison scored the game's final 15 points. Warhawk running back Sasha Vandalov (19 carries, 106 yards) scored on running plays of one and two yards out, and Devens nailed a 34 yard field goal to complete the game's scoring.
Langley will be on the road this Friday night to take on unbeaten Stone Bridge, which will be celebrating its Homecoming.