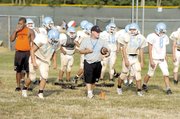 The Marshall High football team put together its second consecutive win last Friday night, defeating visiting McLean, 38-16, in a Liberty District game. With the win, the Statesmen improved their record to 3-3 overall after a 1-3 start to the season. Two weeks ago, Marshall had beaten non-district opponent Stuart, 28-0, in a road game.
Marshall trailed McLean (0-6) by a 9-0 score in the first half. The Highlanders opened the game with a 95 yard kickoff return to go ahead 6-0. The Statesmen did not score in the first quarter but came to life with 17 second quarter points in the second quarter to grab the lead at halftime, 17-16.
Then, in the second half, Marshall, which was celebrating its Homecoming, played outstanding both on offense and defense to garner total control of the game.
Marshall, in the win, got touchdowns from junior receiver Dan McClain, senior running back Jamie Cleer, senior running back Christian Ovando and senior Harold Sweet, who returned from an injury to give the Statesmen a nice boost.
On the special teams' front, Marshall received good kickoff return yardage from both senior Eddie Stevenson and Cleer. Also, senior kicker John Peterman booted a successful field goal.
On the defensive side of the football, Statesmen McClain and Cleer both had several hard hits and junior defensive back Steven Savage came away with an interception.
It was a sweet victory for Marshall because it was the school's Homecoming and because it got the Statesmen to the .500 mark. This Friday night, Marshall will travel to district opponent Jefferson where it will be looking to notch its fourth win of the season.
The Statesmen won their season opening game way back on Aug. 29 over Hayfield before losing their next three games to Fairfax, Stone Bridge and Langley. But the win over Stuart two weeks ago got Marshall back into the `W' column.
"It was great," said Marshall coach J.T. Biddison, of defeating the Raiders, members of the National District. "We definitely needed it."
The coach said his team executed well in the triumph over Stuart, with the exception of some turnovers.
"We started to do things right on offense and defense and we put things together," said Biddison. "We ran the ball well and finished our blocks and runs."
The area that concerned Biddison about the Stuart game was the fact that the Statesmen lost three fumbles. The first occurred when Marshall, leading 7-0, was marching the ball for another potential score. The lost fumble ended that threat. Unfortunately, Marshall fumbled on its next possession as well. But, despite the consecutive turnovers, Marshall still went on to win the game with relative ease.
Marshall, which led Stuart 14-0 at the half, received strong running games from Ovando (90 yards rushing) and senior running back Brandon McCullen (60 yards).
Biddison was especially pleased with his team's play on the defensive side of the football against the Raiders.
"It was their best game of the year," said Biddison. "The defense really stepped up. They were flying towards the ball."
Defensive lineman Andrew Embree, a two-way player who is a tackle on offense and an end on defense, has given his team an outstanding season. Defensively, Embree, a junior, has helped lead the Marshall charge. A year ago, he earned Second Team All-Liberty District honors at defensive end as a sophomore.
"He's a real good football player," said Biddison. "He's one of the better players around."
Another stellar season on the defensive side has come from senior outside linebacker Aaron Gooding, who has also helped the Statesmen offensively at both quarterback and wide receiver positions.
"He had a real good game at linebacker [against Stuart]," said Biddison.
<b>ONE OF THE TEAM'S</b> best all around players is Cleer, a cornerback on defense who plays running back and some wide receiver on offense. Cleer, going into the McLean game, led Marshall's defense in tackles. A year ago, he missed most of the season as a result of a broken hand. This season, Cleer has been healthy and played well. In the season opener win over Hayfield, he returned a punt for a touchdown.
Offensively, Sweet was penciled in to be the starting quarterback at the beginning of the season. But he broke his left hand (non-throwing hand) in Marshall's first scrimmage and has missed the most part of this season. He also battled injury problems last year as the Statesmen's' starting QB.
Handling the QB duties for the most part this season have been junior Justin Stalcup, who started the team's first three games at signal caller, and Gooding.
Biddison said Sweet has displayed a great attitude this season. Although his hand injury prevented him from playing over the first half of the season, he has helped out during practices as the scout team quarterback and also worked with some of the program's younger quarterbacks.
Biddison, following the Stuart game, said there were still questions in regards to his team's potential.
"We're still trying to figure out where we're at," he said. "We took a big step [by beating Stuart]."
He knew his team would have to come out strong against McLean. Even though the Highlanders have not won a game yet under new coach Jim Patrick, they do have some offensive firepower.
"McLean's a pretty good football team and a much improved team," said Biddison, prior to his team's Homecoming affair with the Highlanders.
McLean has already played some of its tougher opponents, including defending state champion Stone Bridge. Following this week's Jefferson game, the Statesmen will play its final three regular season games against Woodson, South Lakes and Madison, all district affairs.