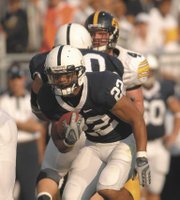 At some point during that four-plus hour drive from State College, Pa. back to Virginia, Evan Royster came clean. After an official visit spent at Penn State's sprawling campus, touring its football facilities and shaking hands with Nittany Lion coaches, Royster called his high school coach, Westfield's Tom Verbanic, and asked if he could stop over to chat. Verbanic obliged.
When Royster arrived, the two talked for a few minutes before the All-State runner stopped dancing around the line of scrimmage. Royster knew it was still early in the process, but he had seen enough. He wanted to go to Penn State.
"I could see on my visit, all the players were good guys and it really felt like a family atmosphere," said Royster, who, as a redshirt-sophomore, has blossomed into one of the Big Ten's most talented running backs. "It was something that I really liked."
Something — or someone, rather — that Royster also liked had instituted that family atmosphere nearly 43 years ago. Joe Paterno, Penn State's longtime head coach, had made such an impression on the young Royster that he spurned offers to play lacrosse, his other head-turning talent, at such prestigious lacrosse schools as Johns Hopkins and the University of Virginia.
As a senior at Westfield, Royster scored 33 goals on the lacrosse field and played in the North-South All-American lacrosse game, but on the football field his statistics and accomplishments were much more impressive.
<b>ROYSTER RUSHED</b> for a total of 6,384 yards and 90 touchdowns, excelling in Verbanic's zone-blocking system. When Westfield reached the Virginia AAA Division 6 state title game in 2003, Royster, a sophomore at the time, ran for over 150 yards and helped the Bulldogs to their first-ever state crown.
"He's got to be one of the most dominant backs that's ever played in Northern Virginia," said Verbanic, who also won a state title with his 2007 Westfield team. "He gave you the presence that everybody, no matter who we played at any time, had to play run against us because he was that good."
Though the Nittany Lions (6-0, 3-0 Big Ten) boast a ton of offensive talent, teams such as Illinois and Purdue have been forced to play run against Penn State because of Royster.
With the newly-instituted "Spread HD" offense, essentially an NFL-style passing game integrated with spread formations and running plays, Royster's speed and athleticism have turned Happy Valley even happier. In six games thus far, he's carried 84 times for 659 yards and eight touchdowns, averaging 7.8 yards per carry.
"I really think [the Spread HD] has opened up defenses a lot," said Royster, who ran for 513 yards and five touchdowns as a redshirt-freshman. "We have a lot of weapons that opponents have to account for, and it's really opened things up in all aspects."
<b>WHEN ROYSTER</b> was still at Westfield, Verbanic told area recruiter and Penn State defensive line coach Larry Johnson that he had a running back that could play. When Johnson came to see Royster, the first person he dialed was running backs coach Galen Hall. He had to, as soon as possible, see this speedy back with great vision from Westfield.
"Larry has the area and had film of the running backs. We looked at it as a staff and I looked at it as a position coach, and I thought that [Royster] was a quality back," Hall said, who's in his fifth year of coaching at his alma mater. "Then Larry went on about what a good student he is and what a good family he has, and we thought he'd fit very well into our program."
As a member of the Westfield football team, Royster encountered things and experienced things that many area football players never get the pleasure of experiencing. District titles, deep playoff runs and state championship appearances are all part of Westfield's yearly expectations, not to mention the fact that Royster spent four years playing for a coach that, with his college-level offense, has compiled a 75-6 record at the school.
"I'd like to say we did everything but that's not true," Verbanic joked. "He's definitely a great athlete, and I think the one thing that really helped him was the style of offense that we run at Westfield."
"It definitely prepared me," Royster added. "I got a chance to play alongside a couple Division I athletes and against them too. That's the big thing. You have to get the experience playing against people that are as talented as Division I athletes, and playing in the Concorde District and at Westfield really did that for me."