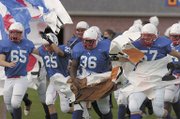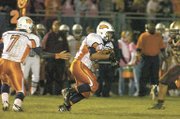 The Stone Bridge High football team will celebrate Homecoming this Friday night when the Bulldogs meet Langley in a Liberty District game in Ashburn. The 6-0 Bulldogs are coming off another easy win, a 51-6 victory at South Lakes. Stone Bridge, 3-0 in the district, has won easily in all of its district encounters thus far — lopsided triumphs over Marshall, McLean and now the Seahawks.
Langley, Stone Bridge's opponent Friday, is struggling of late after a 3-1 start. The Saxons (3-3) lost at home last Friday night to district foe Madison, 18-14. Madison (4-2), which will host Stone Bridge Oct. 17, won its fourth game in a row since an 0-2 start. The Warhawks, a younger squad compared to last year's successful Division 5 playoff team, will look to make it five straight wins when they play at W.T. Woodson this Friday night.
Langley, with last week's setback to Madison, lost its second straight game since beginning the season 3-1. Two weeks ago, the Saxons lost to unbeaten Oakton, 42-3. They were looking to get the bad taste of that defeat out of their mouths when they hosted Madison. Langley running back David Helmer rushed for 164 yards on 29 carries against Madison and the Saxons built a 14-3 lead. But the Saxons could not hold on.
Stone Bridge is not likely to be seriously tested the remainder of the regular season. After Langley, the Bulldogs play district opponents Madison, Jefferson and Woodson to conclude the season. Then, Stone Bridge will begin defense of its Division 5 Northern Region and state AAA titles.
<b>IN OTHER LOCAL</b> football action last Friday night, Briar Woods won a low scoring, defensive battle over Dulles District foe Dominion, 7-0, in Brambleton. Falcons' running back Essray Taliaferro scored the game's lone touchdown on a 2-yard run in the second quarter.
The win improved Briar Woods' record to 4-1. The Falcons had suffered their first defeat the week before, falling at Broad Run, 29-0. Dominion (1-4), meanwhile, came into the Briar Woods game having gotten the first win under its belt the week before in a 35-7 triumph over Dulles rival Freedom.
This Friday night, Briar Woods will travel to district opponent Loudoun County, while Dominion will play at unbeaten Broad Run.
Broad Run (5-0) is coming off a hard fought Dulles District win at Heritage (Leesburg), 21-13.
The Spartans trailed Heritage 7-0 after one quarter before breaking through for two touchdowns in the second quarter. Both of the TDs came on pass plays from quarterback Chris Jessop to Adrian Flemming (scoring plays of 5 and 35 yards).
The Spartans increased their lead to 21-7 in the third quarter, thanks to a 37-yard punt return by Breon Earl.
Broad Run, following its game with Dominion this week, will play at Loudoun County Oct. 17 before playing at home against Potomac Falls Oct. 24 in what could be a game that determines the district champion.
Potomac Falls remained unbeaten at 5-0 with a convincing 47-14 win over Dulles rival Loudoun County last week. The Panthers built a 27-0 second quarter lead and rolled from there. Potomac Falls running back Michael Baker rushed for 112 yards and a touchdown. On the defensive side, he also scored a touchdown on a long fumble return.
Potomac Falls senior quarterback Greg Woodlief threw for 144 yards and a pair of touchdown passes, both going to Tarrell Owens. Woodlief also ran for two scoring runs, including a 67-yarder.
Potomac Falls will play at Park View this Friday night. The Patriots are coming off a 41-13 win over Freedom.