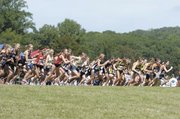 With the high-school cross country season beginning its stretch drive, Park View High Coach Jim Nosal likes the direction in which his team is headed at this juncture of the fall. "The kids are progressing exactly the way I expected," Nosal said.
The coach wants both his boys' and girls' squads to be at their best for the Dulles District Championships, set to take place Oct. 23, at Ida Lee park in Leesburg. The Patriots competed at the Octoberfest this past Saturday and have one more big invitational meet, the Glory Days event set to take place this Saturday at Bull Run Park in Manassas, before the start of districts.
Nosal said his runners have done a good job cutting down on their running times throughout the course of the season. He wants that to continue over the final few weeks of the regular season and throughout the postseason.
"It looks like by the time districts come, they'll be able to get their fastest times," Nosal said.
The coach, on several occasions during each autumn season, talks to his team about running times and what the runners need to do to continue to improve on those times.
"We set goals for the kids to get to," he said.
The Park View boys' top-two runners over the course of the season have been senior Mateen Ali, a first-year runner, and junior Tommy Vereb. Ali's primary sport is soccer, but he has had a positive impact in his first fall season with the Patriots' cross country team. Vereb is more of a seasoned long-distance runner and is becoming a better and better 5K runner every time he competes.
"He's understanding better how to race a 5K distance," Nosal said of Vereb.
<b>THE PARK VIEW GIRLS</b> have been led by seniors Sarah Taylor and Megan Barnes, the team's No. 1 and No. 2 runners, respectively. Both are good athletes and proving to be stellar long-distance runners.
"They are very consistent," Nosal said of the two Patriot girls runners. "Sarah is a soccer player and Megan runs the 800 [in outdoor track season]."
Nosal believes the Park View girls can put together a strong race at the upcoming districts competition. There, the top-four teams will qualify for the following week's Region II meet Oct. 30 at Oatlands.
"We should do very well," Nosal said about the prospects of his girls' team at districts. "It's a matter of keeping everybody healthy and improving on times. My expectations are that we do better than last year."
Going into last week's huge Octoberfest meet at Great Meadows, Nosal said he believed his girls and boys teams were primed and ready to run well the remainder of the season.
"They are as ready as they can be," Nosal said of the Octoberfest and Glory Day events.
The timing for the Octoberfest was bad for numerous teams and their upperclassmen runners last Saturday because several schools were doing their SAT testing that day.
"With [last] Saturday happening to be SATs, that effects every team," Nosal said.
Several weeks ago, in one of the biggest events of the season, Nosal said his team did a fairly nice job competing at the 100-team Oatlands Invitational Sept. 20 in Leesburg.
"I liked the results we got at Oatlands, although I would have liked to have seen faster times," he said. "The kids came out and gave it the best they could that day."