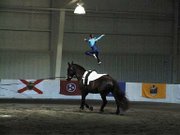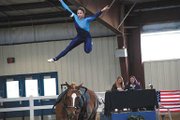 Alissa Caitlin Feudo of Fairfax Station won the Equestrian Vaulting Regional Championship in New Jersey July 10-13. Feudo out-performed competitors across four categories to capture the championship. The competition took place at the Delaware River Equestrian, Agriculture and Marine Park.
Equestrian Vaulting is a combination of gymnastics and dance on the back of a moving horse. Originally designed by the Roman Legions, vaulting was the accepted method of training cavalry troops for battle until the 19th Century, when machines replaced the horse. In Europe, where cavalry has a rich history, the precise movements required for survival in battle were adapted to six compulsory vaulting movements, plus a mount and a dismount; these are judged on precision and harmony with the horse. As with gymnastics and figure skating, vaulting also has a freestyle element, called the kur, and is performed to music. The kur is a one-minute freestyle event and is judged on harmony with the horse, composition and the degree of difficulty of the movements chosen. The horse's performance is also judged and receives a score.
Feudo is a junior at Robinson Secondary School and the daughter of Christopher V. Feudo of Fairfax Station.