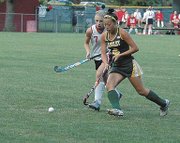 The McLean High girls' field hockey team was set to wrap up its regular season schedule with a non-district home game against Washington-Lee (Arlington) earlier this week. Following that contest, the Highlanders were going to set their sights on the Liberty District tournament, which is scheduled to begin on Thursday of this week.
It has been an outstanding season for McLean, which going into this week held an impressive 10-4-2 overall record under first year head coach Summer Hardman. The Highlanders, depending on outcomes of earlier week district games, are most likely going to be a No. 3 or No. 4 seed for the district tournament, which would mean playing at home in the initial round. They will play Jefferson, Langley or South Lakes in first round play. Whoever McLean ends up playing, it must win in order to qualify for the upcoming 16-team Northern Region tournament. A first round district tournament loss will end the Highlanders' season.
A first round win, however, would not only qualify McLean for regionals, but would also advance Hardman's team to next Tuesday's district semifinals. The two district semifinal winners will move on to the following night's championship game. Both the district semifinals and finals are scheduled to be held at Madison High School in Vienna.
<b>Early</b> last week, McLean lost a 2-0 game at district rival Madison on Oct. 7. The Highlanders had won their two games prior to that, district victories over South Lakes, 3-1, and Jefferson, 1-0. But the loss to the Warhawks was perhaps a little bit of a wake-up call for McLean as it prepares for the postseason.
"Because of the loss last week, I don't think we've peaked yet," said Hardman, pleased with her team's overall record but realizing the season could come to a quick halt with a first round playoff loss. "Hopefully, we can gain some confidence this week [in the regular season finale against W-L]."
Hardman said her squad has been focused on qualifying for regionals all season. Anything less would be a heart-break.
"It's what we're shooting for, the regionals," said the coach. "I believe we can get there."
Hardman, a former player herself, realizes that anything can happen during the postseason. The regular season only helps as much as building a team's confidence and earning a good seeding for the playoffs. Upsets occur all the time in sports.
"It can be very unpredictable when you go into tournament time," said Hardman. "We'll put our best foot forward. They are very aware we have to win our game on Thursday to move on. They know what we're up against."
<b>THE HIGHLANDERS</b> have played outstanding team field hockey this fall season. Key players have included junior team leaders Caitlin Baker and Elisa Enriquez-Hesles, senior Mary D Alesandro and junior Olivia Applewhite, who leads the team in goals scored.
Hardman said her team has thoroughly enjoyed experiencing a breakout winning season.
"They are not used to the [game] outcomes they have seen this year," said Hardman, whose team is 3-2-1 in district play. "They are confident and the community as a whole is excited."
McLean was scheduled to celebrate its Senior Night in the regular season final game against Washington-Lee. Seven seniors were tabbed to be honored in pre-game ceremonies. Those McLean 12th graders are: Mary D Alesandro, Alexis Koeppen, Malaika Pacque, Carolyn Postol, Annie Ruehlin, Maggie Streeten and Molly Welch.
Hardman said she planned on starting each of the seven seniors against the Generals in tribute to what they have brought to the program.