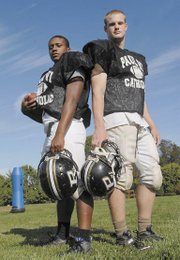 After last season's 1-9 performance, few teams within the Washington Catholic Athletic Conference figured to give the Paul VI football team much of a look. But with a deep and talented junior class, the Panthers, several times this season, have been worthy of a second, longer look.
Behind the running of Idreis Augustus and the tackling of junior linebacker Eric Wright, Paul VI (2-4, 0-3 WCAC) has already doubled last season's win total and played a handful of other games much closer than it has in the past.
"The confidence is a lot higher this year with how we've competed in games against DeMatha and Bishop McNamara," said the 5-foot-7 Augustus, who was quick to point out that he's grown an inch from last year's 5-foot-6 mark. "Last year, we would give them a fight for maybe two drives and then it was over."
Through six games, the Panthers have already scored 55 more points than they did all of last season and are averaging 21.7 points per game, an arena football-like number compared to 7.5 last fall.
Offensively, Augustus' continued brilliance has been the most obvious reason for the Panthers' success. In a 43-20 home win over Bishop Ireton on Sept. 19, Augustus carried 31 times for 141 yards and three touchdowns, capitalizing on his ability to hit a hole quick and get to the edge on outside runs.
On the season, Augustus has carried 111 times for 644 yards, an average of 5.8 yards per carry. He has also scored seven touchdowns.
"We know that he's a workhouse," said Bishop Ireton coach Tony Verducci of Augustus. "He's a tremendous competitor and he has very good vision. But what I think distinguishes him from most people is that he has a great effort on every touch."
<b>AS A FIRST TEAM All-WCAC</b> pick last fall, Augustus distinguished himself by rushing over 1,000 yards. He was and still is the focal point of Paul VI's offense. But, it's what has developed around Augustus that provides the Panthers with a reason for optimism.
Wright, a 6-foot-2, 215-pound linebacker, has given the rest of the WCAC someone else to prepare for in addition to Augustus.
Last Friday, during a closer-than-expected 21-13 loss at DeMatha, Wright knifed his way through the Stags defense and finished with a team-high 12 tackles. Wright leads the Panthers in tackles this season with 67, an average of more than 11 tackles for per game.
"I've seen a tremendous growth from game to game with him, and I see a potential for even more," said Paul VI coach Pat McGroarty, whose team will face St. John's (D.C.) on Friday. "He's gotten taller, he's gotten quicker and he's gotten bigger. His game is starting to really pick up. He's really the heart and soul of our defense."
"It pushes me to have a good practice every day that they feed off of me," said Wright, who also plays tight end for the Panthers. "Even when I was [only playing] offense, I came over and practiced and it's helped just getting a lot of reps and seeing what he's been telling me to do."
<b>WRIGHT HAS</b> bolstered a linebacking corps that features two other physical players, senior Dan McGroarty (6-1, 235 pounds) and junior Mike Lyons, and through six games the Panthers were allowing around 9.4 less points per game than last season.
"They have a good linebacking corps," Verducci said. "They work very well as a unit in terms of their keys and their reads and moving aggressively to make plays."
Junior quarterback Trevon Bennett and senior wide receiver Dominic Sanders provide the Panthers with a downfield threat. Coupled with the steadiness of Augustus and the intimating play from Wright and Co., Paul VI is well on its way to re-establishing an image within the WCAC, where the Panthers posted consecutive 5-5 seasons before last year's 1-9 rebuilding project.
"I think that opposing teams see a different team this year that's competing to get into a playoff spot," Wright said, "and to finally get some respect in our league."