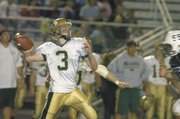 From the perspective of the Stone Bridge High football faithful, there was little to be displeased about in the Bulldogs' 38-0 Liberty District win over Langley last Friday night. On a festive evening in which the Ashburn school was celebrating its Homecoming, the school's supportive community displayed its football allegiance in grandeur and enthusiastic fashion as the Bulldogs easily defeated their guests from Great Falls.
From the perspective of the Stone Bridge coaching staff, however, there is still plenty of room for improvement for the 7-0 Bulldogs, whose season probably will not be looked upon as a complete success if they do not ultimately defend last year's Div. 5 state AAA title. That's the sort of expectations the Bulldogs have created for themselves after winning the program's first-ever state crown in 2007 and following that up with decisive wins throughout the first seven games of the current season.
"I don't think we played very well," said Stone Bridge coach Mickey Thompson, in no way disrespecting Langley, but instead looking at his team's 15 penalties and two lost fumbles as a barometer of his squad's play from a coaching perspective. "Mentally, we were out of it."
Thompson realizes his team will not necessarily get away with such a sloppy game when it is playing some of the better teams in the Northern Region and possibly the state playoffs during the upcoming postseason.
On the other hand, who is to say? As talented and well coached as the Liberty District powerhouse team is, maybe no other opponent will come close to touching them this year. But while fans can afford to think that way, coaches can not.
"Hopefully, this will be a wake-up call," said Thompson, who is going to have to find a way to get his team to stay focused over the final three regular season district games against Madison, Jefferson and Woodson teams most people assume the Bulldogs will easily rout.
Stone Bridge senior receiver/defensive back Michael Prince said it's not about who Stone Bridge is playing in the weeks ahead, but about the Bulldogs themselves.
"Our goal is [to focus] on us, nobody else," said Prince, who ran for a 21-yard second quarter score against Langley. "Our main thing is to win the state championship."
Running back Daniel Allen, who rushed for 185 yards on 20 carries and four touchdowns, said the Bulldogs are not getting caught up in themselves.
"Our coaches keep us on the right track," said the senior playmaker. "They tell us to pay attention and strive for a championship. It's our goal and kind of keeps us on track, to win a state championship. Our coaches put us in the right mindset. It's fun to get out and just play football."
<b>FROM A LANGLEY</b> perspective, the loss was a downer because it was the 3-4 Saxons' third straight defeat and second lopsided setback in three weeks. Coach John Howerton's team fell at Oakton, 42-3, on Sept. 26 before playing Madison close in an 18-14 loss two weeks ago.
The Saxons understood they were not going to have an easy time against a Stone Bridge team that is easily the best squad in the region right now. The Bulldogs, in fact, scored on each of their five first half possessions last Friday, building an insurmountable 31-0 halftime lead.
"Physically, we handled them," said Prince. "We just got the key plays and blocks."
Langley, a team that has always been known as a strong, grind-it-out running team that is big and physical on both sides of the line of scrimmage, has broadened its offense this season. The Saxons have passed the ball with more frequency.
Although Langley did not score against Stone Bridge, it did find some success through the air behind quarterback Patrick Kelly, who completed 13-of-27 passes for 170 yards. He did throw three interceptions, but many QBs have struggled against a Stone Bridge defense that boasts five starters who have already earned Div. 1 college scholarships. The Saxons had no success running the ball against the Bulldogs, with running back David Helmer (16 yards) finding little space on 18 carries. So Langley had to open things up. Kelly's primary targets were senior receivers Alex Devlin (6 catches, 72 yards) and Matt Evans (3 catches, 52 yards).
"The kid was passing a good ball," said coach Thompson, of Kelly.
Langley will try to even its record at home this Friday night against South Lakes.
<b>GAME NOTES:</b> Stone Bridge QB Patrick Thompson completed 13-of-23 passes for 261 yards, including a 30-yard scoring strike to Nick Sheehan to open the game's scoring. Two of Thompson's passes went to brother Zach Thompson, who left the game with an injury in the second half.
* The Bulldogs got interceptions from Allen, John Bladel and Zack Miller. Mike Olson had a quarterback sack. Andrew Ansell caught five passes for 120 yards. The Bulldogs accumulated 555 yards of offense to Langley's 188.
* Of Allen, Stone Bridge's running back, coach Thompson said, "He's a [potential] game-breaker every time he touches it. He's getting better and better . He's our go-to guy in the backfield."