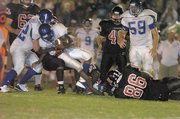 In every way, the South Lakes High football team needed to get into the win column last week. The Seahawks, who had just one win entering last Friday night's game at winless McLean High, had lost by lopsided scores in recent outings. A victory over the host Highlanders was badly needed.
And a victory is what South Lakes got as it defeated McLean, 21-7, in the Liberty District contest. With the triumph, the Seahawks improved their record to 2-5 on the season and took some of the sting away from the previous week's 51-6 home loss to powerful Stone Bridge, the defending Div. 5 state AAA champion.
"The final score of the Stone Bridge game did not [tell the whole story]," said South Lakes coach John Ellenberger, who said the Seahawks played good at times against the unbeaten Bulldogs. "We played them a lot better than a lot of people thought."
The coach said Stone Bridge's top-notch talent, especially defensively, was too much for his team to overcome. The Ashburn-based school has five players who have already earned Div. 1 college football scholarships.
"Their defensive front is the best I've seen in 12 years," said Ellenberger. "We made some mistakes [in the game]. We had three late hit calls on us and some bad special teams play."
South Lakes' only score against Stone Bridge came on the final play of the first half when senior quarterback Justin Zeller found sophomore wide receiver Darius Smith on a fade pass in the end zone to make the score 29-6.
"We went sprinting into the locker room [at halftime]," said Ellenberger, whose team needed the morale-boosting touchdown against the Bulldogs. "They were excited at the half."
But the Stone Bridge team, which many people believe will roll to another state championship later this fall, outscored South Lakes 21-0 in the second half.
"They're an incredible football team," said Ellenberger. "I haven't seen anything quite like those guys."
Stone Bridge went on to defeat Langley this past Friday night, 38-0, to improve to 7-0.
<b>SOUTH LAKES REGAINED</b>some momentum by getting the win over McLean, snapping a three-game losing streak. The Seahawks' prior win before the McLean game had come in a week three win at non-district opponent Falls Church on Sept. 12.
McLean, under first year head coach Jim Patrick, went ahead of the Seahawks, 7-0, in the second quarter following a 33-yard scoring pass play in which Highlanders' quarterback Will Hecht connected with wide out Ethan Beckett from 33 yards out.
Trailing 7-0, South Lakes came up with a huge offensive play later in the quarter when senior running back Brandon Price broke free for a 66-yard touchdown run. Tommy Paone's extra point kick tied the game at 7-7.
In the second half, South Lakes took charge of the game by scoring touchdowns in both the third and fourth quarters. Senior running back Bralynn Harris ran the ball in from two yards out for the third quarter score, and sophomore back Ja'Juan Jones scored on a 27-yard run in the final quarter. Paone, a junior, knocked both extra point kicks through the uprights following the two second half scores.
Jones, a talented skill position player who had missed the prior four games with an injury, finished the night with 134 yards on 20 carries. Earlier this season, Jones had rushed for 175 yards in a tough non-region loss to Heritage of Leesburg in the season opener. And he rushed for 80-plus yards in the Seahawks' loss to local rival Herndon the following week before leaving the game in the third quarter with a sprained shoulder.
<b>ELLENBERGER SAID</b> his team has handled the difficult losses this season simply by going to work in preparation for the next week's opponent. That mindset helped the Seahawks put behind the loss to Stone Bridge and get a win over McLean.
Now, South Lakes is preparing for this week's district game at Langley. Following that encounter, the Seahawks will play their final two regular season home games against Marshall on Oct. 24 and Jefferson on Halloween night.
South Lakes qualified for the eight-team Div. 5 playoffs last year despite having a losing record. The Seahawks are working to earn another postseason bid again this season.
"Our mentality is we have a chance of making the playoffs," said Ellenberger. "Our expectations are to make the playoffs. I knew we'd have a rough stretch to our schedule [over the past month]. We just want to go out and try to win our next [three] ball games."
South Lakes has struggled with injuries, having lost eight different players at times. But the Seahawks, according to their coach, are getting healthy for the season's stretch drive.
"Some of our guys are getting back," said Ellenberger. "We just have to get healthy. We've had a bunch of sprained ankles [and such]."
The Seahawks have gotten steady play throughout the season from Zeller, their quarterback.
"He's a great leader and a great kid," said Ellenberger. "He's been our quarterback all year."