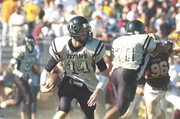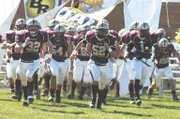 A stingy and determined Dominion High football team attempted to put a damper on Broad Run's Homecoming Saturday afternoon last weekend. For the most part of the Dulles District game, played in front of a large, festive crowd on a gorgeous, mild fall day in Ashburn, the visiting, underdog Titans stayed right with the Spartans. Finally, to the relief of the nervous home team fans, Broad Run burst through for a big final quarter and defeated the guests, 27-6.
"They're a lot better than people think they are," said Broad Run coach Mike Burnett, whose team remained unbeaten at 6-0 with the win as Dominion fell to 1-5. "Their defense flies to the ball and they play hard."
Karl Buckwalter, the first year Dominion head coach in the early stages of overseeing a re-building effort to the program, had to look at the big picture afterwards in regards to his team.
"We're getting better each week," said Buckwalter, who once built the Northern Region's McLean High team into a power in the 1990s. "We feel the kids are taking everything in they can like sponges. They are tackling better and playing defense better."
Dominion, whose only win came two weeks ago in a home game triumph over Freedom, is now looking to regroup for its own Homecoming game this Friday night against district foe Heritage of Leesburg.
"We'll go back to work and get ready for Heritage," said Buckwalter.
<b>THROUGHOUT</b> Saturday's game, Dominion was a thorn in the side to the Spartans, who probably had ideas of taking charge of the game early on and winning with relative ease as they have done against other teams this season. But the Titans played solid defense much of the game and had some offensive success moving the ball.
When sophomore running back Deandre Reaves, one of the metropolitan area's better underclassmen skill position players, maneuvered his way for a 10-yard scoring run within the last minute of the first half to get Dominion within 8-6, it was a fired up Titans' team which, a few minutes later, enthusiastically left the field for halftime. Buckwalter was as animated as anyone, pumping his fist into the air in response to his team's impressive overall play.
"Everybody plays hard now," said Burnett, not at all surprised by Dominion's effort. "The district is better and better. There are no down games."
A mid-third quarter Broad Run field goal by Graham Allen from 30 yards out made the score 11-6 Spartans, and that remained the tally going into the fourth quarter. The Titans, it appeared, were set to take the Spartans the distance.
Broad Run created a little more breathing room for itself when Allen, the team's outstanding senior kicker, converted on another field goal from 29 yards away with eight minutes, eight seconds remaining to put the Spartans ahead 14-6.
Moments later, a poorly executed special teams' play by Dominion out of punt formation resulted in the Spartans starting a possession at the Titans' 35 yard line.
From that moment on, Broad Run grabbed control of the game. On the third play on the Spartans' possession, senior running back sensation Breon Earl broke free off the left side for a 17-yard pickup down to the two-yard line. Two plays later, bruising senior fullback Kenny McAdow rammed the ball up the middle and into the end zone for the score that put the game out of reach with just over a minute to play at 21-6.
And for the final icing on the Broad Run Homecoming cake, the Spartans' defense scored a touchdown of its own two plays later into Dominion's next possession when junior defensive back TJ Peeler intercepted a pass and ran it back 31 yards for a touchdown.
The final score read 27-6, but the game had felt much closer than that.
"People are going to say we should win 40-0, but we're going to get everybody's best shot every week," said McAdow, of the defending district champion Spartans. "Dominion's a good team."
<b>Game Notes:</b> Earl, McAdow, junior lineman Brian McCann, senior tightend/linebacker Mikey Cotton and senior wide receiver/defensive back Eric Pasztor, were all part of the Homecoming court during halftime festivities. Pasztor was named Homecoming King.
*Earl, the shifty, 5-foot-7 inch, 160-pound scat back, rushed for 133 yards on 14 carries on the day, although he lost one fumble following a long gain. He opened the game's scoring with a one-yard touchdown run in the first quarter. On the ensuing extra point, Broad Run lined up in kick formation, but pulled off a nifty fake that resulted in senior lineman Will Field tossing a two-yard conversion pass to Kevin Sandersen for an 8-0 Spartans' lead.
*Reaves, the Dominion running back, finished the game with a well-earned 87 yards on 24 carries against a Spartans' defense often keying on him. "Our goal was to contain him," said Burnett, the Broad Run coach. "He's going to make some great plays. His [second quarter] touchdown was terrific."
*Dominion junior defensive back Derrick Lewis had an interception as well as a long fumble return run. He also caught a pass from his wideout position for 20 yards.
*Dominion's offense showed signs of being formidable at times, especially running the ball. But mistakes often hindered the Titans' ability to sustain drives. Two turnovers and 11 penalties hurt the Titans' cause. "We feel we need to work on the little things," said Buckwalter. "Jumping offsides at critical times, missed assignments. It's a matter of getting over the hump [in regards to mistakes]."
* Broad Run will be at Loudoun County this Friday night.