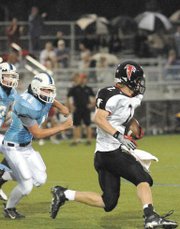 The Madison High football team was hoping to go into this week's home game against unbeaten Stone Bridge with the momentum of a five-game win streak.
The Warhawks, indeed, almost made it five straight last Friday night, but in the end came away with a tough, 20-17 road loss at W.T. Woodson. With the setback, Madison's overall record fell to 4-3 while its mark in the Liberty District slipped to 3-1.
Madison had won its four prior games before losing to the Cavaliers, a tough district foe the Warhawks had beaten each of the past three years. Friday's game was hard fought and close the entire way.
The guests opened the scoring in the first quarter when quarterback Will Clarkson hooked up with running back Mike McCool for a 22 yard touch down pass play. James Devens' point-after-kick gave Madison a 7-0 lead. Woodson, however, scored later in the quarter on a long pass play to tie the score at 7-7.
Devens, Madison's junior kicker who has put together an outstanding year, booted a 34-yard field goal for the game's lone scoring in the second quarter to give the Warhawks a 10-7 halftime lead.
In the third quarter, Woodson scored the lone touchdown, the result of another long pass play, to take a 14-7 lead. Later, the Cavaliers scored another passing touchdown in the fourth quarter to increase their lead to 20-10. Madison crept within 20-17 later in the quarter on a two-yard scoring run by McCool and Devens' ensuing extra point kick.
It was a tough loss for Madison, which will be a clear underdog when it hosts Stone Bridge in Vienna this Friday night at 7:30.
<b>MADISON COACH</b> Gordon Leib likes the progression he has seen from his team throughout the season. The Warhawks entered the fall as a fairly young team, but the squad has gained vast experience over the first seven games. Following its game with the Bulldogs this week, Madison will host winless McLean on Oct. 24 before wrapping up the regular season at local rival Marshall on Halloween night.
The Warhawks are looking good to finish with a winning record and to once again qualify for the eight-team Div. 5 Northern Region playoffs.
"They've gotten better each week," said Leib in the days leading up to the Woodson game. "We're starting to execute a little better. They're starting to act like they are older now and I'm starting to see [similarities] to last year's team, which was a senior team."
In Madison's 18-14 district win at Langley two weeks ago, Leib said his team struggled in the first half of the game before playing a better, fundamentally sound game in the second half and going on to defeat the Saxons 18-14.
"We didn't start executing well until the second half," said Leib, of the Langley game and Madison's fourth straight win. "We just weren't in sync with the run and pass."
Madison, in the Woodson game, got a decent game from Clarkson, the team's senior signal caller who completed six-of-14 passes for 76 yards, the one touchdown to McCool and no interceptions. His primary target was McCool (4 catches, 52 yards). On the ground, Madison received a solid game from junior running back Sasha Vandalov, who carried the ball 15 times for 72 yards.
Leib said his team's aerial attack and its defense needs to continue to get better if the Warhawks want to end the season strong.
"You have to have a confident quarterback and receivers who have worked together a lot," said Leib. "We've had injuries, but have two of our better receivers back now. We haven't thrown a whole lot of passes."
<b>LEIB ANTICIPATES</b> his team will have to mix up the run and pass more, especially against a Stone Bridge team that has five starting defensive players who have earned Div. 1 college scholarships. He feels good about his running game with McCool, Taylor Mead and Vandalov in the backfield.
One of the team's strengths has been its kicking game where Devens, the team's kicker and punter, has put together a stellar season. Devens, the starting JV kicker last year, has made all seven of his field goal tries this season and been perfect on point-after kicks. Against Langley, two of his kickoffs went into the end zone. On top of his kicking, Devens' punting has also been outstanding.
"Our kicker has been a real surprise this year," said Leib. "He really worked hard in the offseason and dedicated himself to kicking. He is accurate and he is booming the ball. What is really surprising has been his punting."
Stone Bridge, the defending state AAA champion, has not lost since falling to Robinson early last season. The Bulldogs, coached by Mickey Thompson, are coming off a 38-0 Homecoming win over Langley.