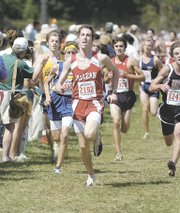 McLean High cross country coach John Jones could not be more pleased with both his boys' and girls' squads going into this week's Liberty District Championships, which were scheduled for Wednesday (Oct. 22) at Burke Lake Park.
"We're really pleased with the work ethic the kids have put in on both the boys' and girls' sides," said Jones. "We're really looking forward to districts. Both teams are primed to do well at districts."
The coach said the team goal for both the boys and girls at districts was to finish in the top four of the team standings. The top four team finishers at districts automatically qualify for the upcoming Northern Region Championships, which will be held on the same Burke Lake course.
<b>LAST YEAR</b>, the McLean boys qualified for regionals by finishing third at districts. The girls, meanwhile, finished fifth at districts, barely missing a chance to run as a team at regionals.
On Oct. 4, McLean competed at the Octoberfest Invitational at Great Meadows in The Plains. Like many of the competing schools, the Highlanders were short handed as a result of SAT testing taking place on the same day. Twenty of McLean's runners had to miss the Octoberfest meet because of SAT's.
McLean, with about one-third of its runners not available, still made a good showing at the annual event.
"Overall as a group, we had a number of kids do well," said Jones. "It's definitely one of the challenging courses. We had mostly younger kids there."
McLean's top runner at the Octoberfest was Mary Covington, a junior who finished seventh overall in the girls' JV upperclassmen race. Teammate Carolyn Bergner, a senior, was 47th overall in that same race, in a field of 151 runners.
In the boys' JV upperclassmen race, McLean's Brad Johnson, a junior, finished a strong 33rd overall in a field of 223 runners.
The McLean girls finished 16th place out of 33 teams in the JV underclassmen race. The Highlanders' top individual finishers were sophomore Laura Baker (47th out of 282 runners) and sophomore Kylie Hekking (76th).
And in the boys' JV underclassmen race at the Octoberfest, the Highlanders finished 17th out of 38 teams. Leading McLean was sophomore Oliver Burt (54th out of 386 runners) and freshman Eric Leimkuhler (71st).
<b>MCLEAN'S TOP</b> varsity boys' runner this fall has been senior Joe Thompson, who has come back strong from a foot injury from last spring. He was still bothered by the injury during the early part of this cross country season, but has progressively gotten stronger and better as the autumn has moved on.
"He's done a fantastic job coming back from the foot injury," said Jones. "He's back, strong and ready to go."
Also on the boys' side, senior runner Kristoff Inocentes has put together a strong season. Inocentes and Thompson have been the Highlanders' top two runners.
"Kristoff has been consistent for us all year as our No. 1 or No. 2 runner with Joe," said Jones. "The two of them do all of their [practice] running together. They are both really quality young men. Both are leaders and co-captains. It's a very fortunate situation to have your best athletes as captains."
Samantha Audet, a senior, has led the McLean girls' varsity. The girls' team co-captain has been McLean's No. 1 runner all season long. The other co-captain, junior Kristin Wulff, has been the Highlanders' No. 2 runner.
"They've battled back and forth," said Jones, of the good competition the duo have engaged in at the top of the team ladder. "They've done a real nice job making sure the girls all run together."
Going into districts, Jones believed his girls' team could finish as high as third.
"But if we don't run by our plan, we could be as low as fifth," he said. "We're hoping to get two girls in the top 15."
On the boys' side, Jones said he could see the Highlanders finishing anywhere from second to fifth place. Jefferson is the team to beat and the favorite to win the district title.
"Jefferson is the consummate powerhouse," said Jones. "Our team mentality [at districts] has to be to run as a pack. We'd like to place two or three boys in the top 15."
Of both the boys' and girls' district races, Jones said, "We've got to stay with each other and rely on each other."