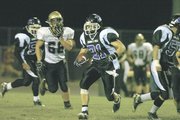 Gregory Woodlief, the Potomac Falls High football quarterback, was concerned throughout last week that he and his teammates might lose focus on their upcoming game because of all of the frenzy surrounding homecoming week. But it turned out he had nothing to fear. The Panthers celebrated the banner week with a 54-0 win over Dulles District opponent Freedom last Friday night.
"Sometimes homecoming can be a distraction for people," Woodlief, the senior signal caller who has helped lead Potomac Falls to a perfect 7-0 record thus far, said. "I thought maybe our minds weren't in it with all the festivities."
In what turned out to be a tune-up game for this Friday night's district showdown at fellow unbeaten Broad Run, the Panthers dominated the visitors from South Riding.
The game's outcome was never really in doubt. On the second play, Panther defensive back Tarrell Owens intercepted a short out-pattern pass and returned it 25 yards down the left sideline for a touchdown. Potomac Falls controlled the action from that point on as it built a 34-0 lead before the end of the first quarter and a 54-0 margin at the half. In the second half, neither team scored and a running clock was utilized.
Owens' defensive score set the tone for the Panthers, who went on to score two more defensive touchdowns in the first 12 minutes — a 45-yard interception return by lineman Zac Duffin and a 30-yard fumble return by Owens.
In the extraordinary first quarter, Potomac Falls ran just seven offensive plays compared to Freedom's 23. But that wide differential was mainly because the Eagles kept getting the ball back following defensive scores by the Panthers.
And it wasn't as if the Potomac Falls offense was not holding up its end during that opening stanza. On the team's first play from scrimmage, senior running back Michael Baker broke free for a 53-yard touchdown run. On the play, Baker took a handoff left before eventually breaking across the field and into the right side of the end zone for a score that gave the home team a 14-0 lead.
Moments later, following a fumble recovery by lineman Mason Mehalic, the Panthers' offense needed just two plays to score, the touchdown coming on a 20-yard run up the middle by QB Woodlief out of the shotgun formation to make the score 21-0.
The scoring bonanza just didn't stop for the Panthers, who scored five touchdowns before the game was even eight minutes old.
It was an ecstatic homecoming crowd that was gleefully taking in the action at Panther Stadium.
"It's pretty cool to play in front of this many people," Baker, Potomac Falls' top ball carrier this season who ran the ball just six times for 69 yards in limited duty against Freedom, said. "It's nice to have so many people come out and watch us win."
<b>BAKER SAID</b> the team was not looking past Freedom (1-6) to this week's Broad Run game. The Panthers' coaching staff, he said, wouldn't let them do that.
"Our coaches do a good job keeping us focused and upbeat in practice," Baker said.
Added Woodlief, "We knew Broad Run was coming up [on the schedule] and that it's a huge game and could decide the district championship. But you can't look past another team. Freedom played hard."
Potomac Falls head coach Scott Woodlief said it was difficult for his team to get too involved with all the homecoming activities because of the time his players were putting in on the practice field.
"Homecoming game is important, but it's for the student body," said the coach. "[Our football players] had to practice every night and stay focused. I think the kids played good football [against Freedom] and made the plays they needed to make."
<b>THE HIGHLIGHTS</b> seemed endless in Friday's win. Special teams came up big for Potomac Falls with David Zedan twice blocking Freedom punt attempts. On his first punt block in the second quarter, the senior picked up the loose ball and ran about 15 yards to the 6-yard line. On the next play, Panther senior running back Matt Kaeser ran off the right side into the end zone to make it 47-0.
Potomac Falls senior kicker Asa Fox had a busy game as he converted six of his eight extra point tries.
Defensively, Potomac Falls held Freedom to 128 yards of total offense. Quarterback sacks came from Zedan and Ricky Lovelace.
Next, Potomac Falls will get its stiffest test yet against a Broad Run team coming off a 37-17 district win over Loudoun County.
"There's 35 guys on this football team and we have a goal we're trying to reach," Coach Woodlief said of his team's goal of attaining a district title.
Of playing the defending district champion Spartans this Friday night, Baker said, "It's going to be a battle. It will be a good game on Friday."