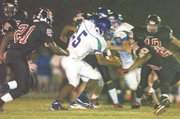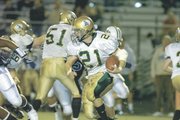 It's been a rough couple of weeks for the Langley High football team. After starting out 3-1, the team lost starting quarterback Danny Pritchett for what was supposed to be the season, and dropped three straight games.
However, Pritchett, back in the line-up earlier than expected last Friday night, led the Saxons to a 35-14 homecoming victory over Liberty District opponent South Lakes.
The game wasn't always as secure as the final score might have indicated, though, as South Lakes drove the length of the field on an impressive seven minute drive that was capped off by a Justin Zeller touchdown pass to senior receiver Brian Stout. The first quarter score left many Saxon fans grumbling about the possibility of losing their fourth homecoming game in a row.
<b>HOWEVER</b>, Langley would respond quickly. Following a poor punt, the Saxons took over on the Seahawks' 38 yard line and punched it into the end zone on a five yard run by senior running back David Helmer.
Then, on Langley's next possession, Pritchett found senior receiver Alex Devlin for a 24 yard scoring pass on a big third–and-11 play to give Langley the lead. South Lakes responded right before the half with a seven-yard scoring run by Brandon Price, who also ran in the ensuing two-point play. The Seahawks, as a result, went into the locker room tied at 14-14 and with momentum on their side.
"The touchdown gave us a lot of confidence going into the half, which is important when you have lost quite a few games like we have," said South Lakes coach John Ellenberger, whose team fell to 2-6. "It let my players know they could compete with Langley."
Following halftime, Langley came at the Seahawks with a completely different approach on offense and defense and it worked to perfection. The second half was all Saxons as they outscored the Seahawks 21-0.
"They were giving us holes [in the first half,] we just weren't consistent on running through them so we made the switch and went with a bigger back," said Langley coach John Howerton.
The Saxons elected to use a bigger running back in senior Derek Eklund, who ran for a season high 94 yards. Helmer, complimenting Eklund, ran for 85 yards and two touchdowns.
Along with it being Langley's homecoming, the game was particularly memorable as a result of Pritchett's miraculous comeback to spark the Saxons' offense that had averaged fewer than six points a game in his absence. Pritchett completed 6-of-8 passes for 104 yards and two touchdowns.
"He was a little rusty, but he looked good," said Howerton. "We weren't planning on playing him that much, but he's just one of those kids who is tough and doesn't want to come out of the game."
<b>ADDED PRITCHETT</b>, "It's really exciting to come back and get a win like that. The team played very well, so it was a successful outing."
The win puts Langley (4-4) back in the Northern Region Div. 5 playoff hunt. The Saxons will travel to W.T. Woodson this Friday night before closing the regular season with a home game against McLean on Halloween night.
South Lakes, meanwhile, will be looking for its third win of the season when it hosts Marshall this Friday night. The following week will see the Seahawks play their regular season finale against visiting Jefferson.