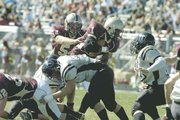 Broad Run High football coach Mike Burnett is familiar with important, district-deciding games like the one his Spartans will be hosting this Friday night. Two Dulles District unbeatens will go head to head when Potomac Falls visits Broad Run in a late-season showdown contest that will likely determine the district champion.
A year ago, Broad Run met Park View in the regular season's final week. The Spartans, playing at home, defeated the Patriots to clinch the district title and finish with a perfect 10-0 regular-season mark. The down side for the Spartans was that they lost to that same Park View team in a first-round game of the Region II playoffs the following week.
"We're fortunate that we've been able to play in some big games the last couple of years," Burnett, whose team improved to 7-0 with a 37-17 district win at Loudoun County last Friday night, said. "We're hoping that will help us [this Friday]."
But of course, Burnett understands big game experience alone will not be enough for his team to get past a Potomac Falls team that has man-handled most of its opponents on way to a 7-0 record thus far. The Panthers, under Coach Scott Woodlief, easily defeated Freedom, 54-0, at their homecoming last week.
"We know they're a very good team, an aggressive and hard-hitting team and that they take advantage of other teams' mistakes very well," Burnett said of Potomac Falls. "Hopefully, we can minimize our mistakes and stick to our game plan. It still comes down to our ability to execute our offensive and defensive schemes."
<b>MICHAEL BAKER</b>, Potomac Falls' senior running back who broke free for a 53-yard touchdown run in his team's win against Freedom, said the Panthers did a good job of taking care of the business at hand in meeting the Eagles. Even with the Spartans coming up on their schedule, the Panthers knew they could not afford a letdown against Freedom (1-6).
"Our coaches do a good job keeping us focused and upbeat in practice," Baker, one of the district's top running backs this season, said.
Versatile Potomac Falls quarterback Gregory Woodlief, whose father is the Panthers' head coach, echoed what Baker said about Potomac Falls keeping its focus last week.
"We knew Broad Run was coming up [on the schedule] and that it's a huge game and could decide the district championship," Woodlief said. "But you can't look past another team. Freedom played hard."
Coach Woodlief said it was difficult for his team to get too involved with all of last week's homecoming activities because of the time his players were putting in on the practice field.
"Homecoming game is important, but it's for the student body," said the coach. "[Our football players] had to practice every night and stay focused. I think the kids played good football [against Freedom] and made the plays they needed to make."
Potomac Falls will get its stiffest test yet against a seasoned Broad Run team.
"There's 35 guys on this football team and we have a goal we're trying to reach," Coach Woodlief said of his team's desire to win a district title.
Of playing the defending district champion Spartans, Baker said, "It's going to be a battle. It will be a good game on Friday."
There is certainly a buzz around both of the school's communities about Friday's huge game in Ashburn.
"Our kids are excited," Burnett said. "We always work all year for these types of games. This is what you practice for and hope the season comes down to."
Following Friday night, Broad Run will have games remaining against Freedom at home Oct. 31 and at Park View Nov. 7. Potomac Falls, meanwhile, will have games remaining against Briar Woods at home and at Dominion.
<b>IN OTHER LOCAL</b> football action, Stone Bridge continued its season of dominance with a 35-0 Liberty District win at Madison last Friday night. The Bulldogs, averaging around 50 points per game, improved to 8-0. They will play at Jefferson this Friday night in Alexandria.
Stone Bridge's Michael Prince rushed for 123 yards and two touchdowns on just four carries against Madison. One of his scoring runs was a 93-yarder in the fourth quarter. Prince, a senior, also caught a touchdown pass from quarterback Patrick Thompson (14 of 26, 185 yards), who also tossed scoring strikes to John Bladel and Daniel Allen.
Briar Woods, meanwhile, improved its record to 6-1 with a 14-6 district home win over Park View last week. The Falcons, whose lone loss came at Broad Run Sept. 26, scored touchdowns in both the first and third quarters to get past the Patriots (2-5). Junior running back Billy McDonald scored from 4 yards out in the first quarter to make it 7-0 Falcons and senior back Essray Taliaferro also ran for a 4-yard score in the third quarter to put Briar Woods ahead 14-6. The Falcons will be at home against Heritage this Friday night.