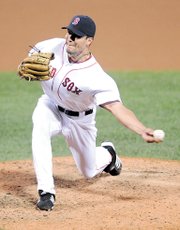 For Boston Red Sox reliever Javier Lopez, the moments come few and far between. Lopez, a Robinson graduate, talks to two people on a regular basis that help him to remember his roots.
Every month, Lopez speaks with his old pitching coach, Bill Evers, who now works as an administrative principal at Robinson. During the baseball season, he also talks with high school teammate Shawn Camp, a relief pitcher for the Toronto Blue Jays.
"We play [the Blue Jays] 18 times a year and it's funny to think back that we used to put on the same uniform at Robinson," Lopez said. "I've known [Evers] for a long time, and it's nice to be able to sit back, relax and have a conversation with a guy who has always been there and supported me."
As a tall, athletic first baseman and center fielder at Robinson, Evers always knew that Lopez would play in games of such magnitude. He just wasn't sure at which position.
Lopez didn't start his pitching career until the ninth grade, ultimately trying out the trade at Evers' urging. It was a perfect fit. Lopez was already one of the best athletes that Evers had ever seen, so it was only natural that he took those gifts to the mound.
"He started pitching his freshman year and really it kind of clicked for him," said Evers, who was the pitching coach at Robinson from 1992-2000 and the head coach from 2001-07.
"You just saw this tall left-hander who was really athletic, and I don't think it was any kind of genius move. You take a kid like that and give him a shot on the mound. For some kids, it clicks and for others they just don't like it."
Lopez liked pitching enough to continue in college but still continued to play first base and hit. After graduating from Robinson in 1995, Lopez attended the University of Virginia where he went 12-9 with a 6.30 ERA in 40 games (31 starts). He also hit .319 with 15 home runs, 71 RBIs and 22 stolen bases.
In the 1998 amateur entry draft, Lopez was selected by the Arizona Diamondbacks in the fourth round (133rd overall) and he embarked on a long, winding road of minor league baseball.
<b>LOPEZ BOUNCED</b> around the minors as a starting pitcher before he was eventually converted to a sidearm relief pitcher between 2000 and 2001, a move that brought with it the end of Lopez's career at the plate.
"I liked playing every day, as opposed to just pitching, but it's one of those adjustments that I think finally have made pretty well," said Lopez, who went 2-0 with a 2.43 ERA in 59.1 innings out of the bullpen this season. "But I miss hitting a lot. When things aren't going well, you miss hitting because it's a good way to take out some frustration."
After making his professional debut with the Colorado Rockies in 2003, Lopez bounced back and forth between the Rockies, Diamondbacks and Chicago White Sox (minors) before finally settling in with the Red Sox in 2007.
Through all of the moves, the teams and the new faces he has encountered, people like Camp and Evers have always been there.
Literally.
For Game 7 of the 2007 ALCS, Evers traveled to Boston to watch Lopez and Co. dispose of the Cleveland Indians and secure a spot in the World Series. This year, if the Red Sox had pulled off another miraculous comeback over the Tampa Bay Rays, he likely would've been invited for a World Series game.
Not that Evers would've been able to offer any advice.
"His style is so much different than it was in high school," Evers said. "He feels pretty good about how he's doing and how his career is going, so I'd say he's kind of beyond that stage."
"He's always been a sounding board for me to be able to bounce some things off of," said Lopez, who recently bought a house in Colorado with his wife Renee Lopez, who is also a Robinson grad. "It's been a great relationship."