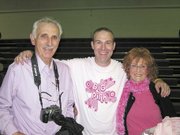 In 2004, Burke resident Rick Dunetz was an inexperienced assistant volleyball coach at West Springfield High School, and when the team's head coach abruptly resigned, Dunetz was thrust into a difficult situation.
He wasn't alone.
Around the same time, Gloria Dunetz, Rick's mother, was diagnosed with Stage IV metastatic breast cancer, the most advanced and serious stage of the disease.
Dunetz was overwhelmed and called his players
together for a talk.
"I leveled with them and said, 'I'm really going through a lot here. I'm not a great coach, and I need you all to step it up,'" Rick Dunetz said.
The Spartans did step up. The once-downtrodden team reversed its course and reached the district final. Gloria Dunetz, who became depressed and didn't leave the family's house for nearly seven weeks after her diagnosis, was dragged to the match by Rick's father.
To her son's amazement, the match, which West Springfield won, served as an inspiration for Gloria Dunetz. "She started to get in the mode that she was going to fight this," said Rick Dunetz, who is currently the head coach at Annandale High School.
<b>MUCH LIKE</b> her son's team, Gloria Dunetz didn't give up. She continues to fight the cancer, a disease that has altered Rick Dunetz's volleyball life.
"After that season, I realized that there was something to the idea that a match can inspire somebody," said Rick Dunetz, who started The Side-Out Foundation in 2004, an organization that raises money for the battle against breast cancer through the sport of volleyball.
The Side-Out Foundation began by hosting grass doubles tournaments and has since added Dig Pink events to its list of accomplishments. The Dig Pink events are designed to raise community awareness of breast cancer and raise money to help fight the disease.
Rick Dunetz and Co. have co-sponsored events with 790 teams nationwide, which
include "about two thirds" of those within the Northern Region.
The most recent event, which took place at Lake Braddock Secondary School on Monday night, generated more than $1,100 and was helped along by two of Rick Dunetz's friends, Lake Braddock coach Erin Clark and her husband/assistant coach Michael Clark, as well as with the efforts of team parents.
"I'm from Michigan and my college coach said they're doing Dig Pink. I was like, 'Wow. This had spread all over the nation,'" said Erin Clark. "It's kind of cool that it has spread so far. It's great to get the school involved, raise some money and it's such a great program."
<b>AT PAUL VI</b> last Friday, the Panthers threw their own Dig Pink event and raised $2,100 for The Side-Out Foundation. Assistant coach Darcee Snider organized the event, which featured raffles throughout the game with donations from Pampered Chef and Mary Kay.
Snider said the event was a huge success, and like many teams who have participated, she plans on making Dig Pink an annual tradition.
"We've had a great response between faculty, staff and parents contacting us, wanting to donate money, asking how they can help and what they can do," Snider said. "We're just seeing what we can do to get this off the ground, and we expect to do it next year and keep it going. So we're honored. I do want to say that, our team is honored."
But even with the emergence of his signature event, Rick Dunetz has been battling to stay upbeat with a few more cancer-related issues within his own family. Like his coaching transition and Gloria Dunetz's bout with breast cancer, it's something that can only be conquered with a positive attitude.
"It makes me feel good to be a part of this and have all these teams be a part of this, but at the end of the day, this is real. People are dying from cancer," Rick Dunetz said.
"One of the things about Dig Pink is that the idea is to build a positive thing. For the kids out here fighting on the court and the people in the stands, it's very important to get up for this event just because they might be sitting next to a breast cancer survivor who needs a little bit of an extra push to get through the end of the day," he said.