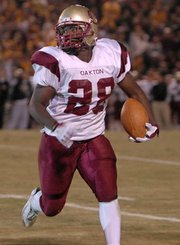 In a six-year span that discounts this current one, the Oakton football team had ended rival Westfield's season during exactly half of those campaigns.
With playoffs wins in 2002, 2004 and 2005, Oakton had become one of the few teams capable of spoiling the Bulldogs' plans while winning a Virginia AAA state title in 2005.
But with only one other Oakton win since Westfield opened in 2000, Oakton hadn't been all that successful against the Bulldogs during the regular season.
"They're the standard-bearer right now in the area," said Oakton coach Joe Thompson after his team had secured a 30-18 win over the Bulldogs on Friday night at Westfield High School. "For us to go out there and beat them is a big deal. It's always going to be a big deal, especially at their place, and we're proud of that win."
Led by senior quarterback Chris Coyer, who passed for 113 yards, ran for 111 and scored three total touchdowns, Oakton displayed a balanced offensive attack against the Bulldogs.
On the first drive of the game, Coyer lofted a perfect pass on a fade route to senior wide receiver Jay Young to put the Cougars ahead, 7-0. Then, on the Cougars' next possession, senior running back Trey Watts (14 carries, 119 yards) exploded for a 78-yard touchdown, extended his team's lead, 14-0.
Westfield responded with a 72-yard touchdown run from senior running back Jordan Anderson (21 carries, 183 yards, two touchdowns), but Oakton kicker Ray Goins booted a 19-yard field goal as time expired in the opening half.
<b>ON THE FIRST PLAY</b> of the fourth quarter, Coyer, who regularly shares time with classmate Ryan Harris (4 carries, 34 yards), scrambled to his left for 31 yards and Oakton's third touchdown, extending his team's lead, 24-12.
Two plays later, Westfield quarterback Danny Fenyak (8 of 19, 121 yards) hit senior Evan Winfrey on a 47-yard post route to give the Bulldogs hope, though Coyer quashed it with a 70-yard touchdown pass to senior tight end Wade Reynolds nearly six minutes later.
"They're very good on offense, and we struggled stopping them," said Westfield coach Tom Verbanic, whose team fell to 7-2 overall, 3-2 in the Concorde District. "They spread you out and they do a great job. I give them a lot of credit."
With the win, Oakton (9-0, 5-0 Concorde) wrapped up its first Concorde District title since 2004 and faces the possibility next week of becoming the first Cougar team to start 10-0 when they face Herndon on Senior Night.
Oakton entered Friday night's game with 31.3 power points, putting them atop the Northern Region Division 6 playoff picture, while Westfield, with 29.8 power points, was seeded second behind the Cougars.
Friday's win assuredly will create even more separation, but for now, Thompson will enjoy the win against an opponent like Westfield.
"Anytime you beat a like Westfield you feel good about it," said Thompson, whose team finished 5-5 last season while the Bulldogs went 15-0 and won the Virginia AAA state title. "I felt like we needed to come in here and win this game because as far as I'm concerned, they're the champs until somebody knocks them out."