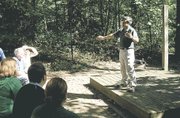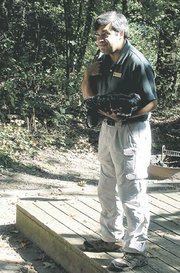 Nestled amongst the trees, streams and trails of Glencarlyn Park, sits the Long Branch nature center. The nature center, one of two in Arlington, provides a variety of educational and recreational activities to help locals fully experience the park. Though most of Long Branch's offerings focus on local flora and fauna, the nature center also runs a quarterly Spy Tour series that tells the story of infamous FBI spy Robert Hanssen, who used the park and nature center facilities as a drop off point for his packages in the 1990s and early 2000s.
"The spy tours offer something different," explained park Naturalist Alonso Abugattas, who runs the program. "We get all kinds of people, some who know a lot about Hanssen, others who are just curious. [The tour] attracts people who might not come here normally, they get a chance to learn about the park, our other activities, and many of them come back."
The last Hanssen Spy Tour at Long Branch took place on Saturday Oct. 4 and drew an audience of nearly two dozen.
Abugattas painted a vivid portrait of Robert Hanssen, fully engaging the crowd through the hour and a half tour. He gave a detailed account of Hanssen's life, chronicling the work he did as a mole for the Soviets from 1979-1981, from 1985-1989 and again after the fall of the Soviet Union from the mid-1990s to 2001, when he was caught in Foxstone Park in Vienna.
Abugattas used photographs and props to illustrate the story and identify key players – including Hanssen's KGB handler, Victor Cherkashin and fellow FBI agent Brian Kelley, who was falsely accused of espionage, keeping the investigation from being aimed at Hanssen for years. Abugattas described the ingenious methods Hanssen used to keep his identity hidden and the many red flags which were overlooked by the FBI, allowing for continued espionage activity that ultimately cost U.S. intelligence billions of dollars in damages.
The most intriguing part of the Hanssen spy tour comes in the second half, when Abugattas describes the specific role Long Branch played in both Hanssen's "dead drop" system and the FBI's investigation, when they'd identified him as a suspected spy.
LONG BRANCH, which was code named the "Lewis" drop site, was one of several Hanssen chose himself. He left packages of sensitive materials wrapped in plastic garbage bags just under the stage of the Nature Center's amphitheater. Hanssen marked his drop offs with pieces of white tape; a horizontal piece meant a new package was in place and a vertical strip meant one had been picked up. This low-tech system, which worked for years, allowed Hanssen to avoid direct contact and maintain anonymity, with his Russian handlers.
In mid-February of 2001 two FBI agents came to the nature center during a weekend preschool program and informed Abugattas that they were conducting an investigation in the park. A week or so later they came back and requested the use of an indoor area to run high tech recording devices throughout the park.
Abugattas shines when he describes the surreal experience of being a small part of a top secret FBI investigation. Especially amusing were Abugattas's accounts of the bizarre interactions FBI agents had with the center's staff and the park's visitors during their four-day stint at Long Branch.
On February 19, the FBI agents announced to Abugattas that their work was done and they wrapped up. Only the next day, when the center's staff found a television crew filming in the park, and Abugattas received a call from the BBC, were they informed of the nature of the FBI investigation. Abugattas also learned that a package containing $50,000 had been found on the premises, and that if Hanssen had not been apprehended at Foxchase Park, Long Branch would have been his next pick-up.
"I don't know how many times I was doing a program on this stage and had no idea there was $50,000 underneath," said Abugattas as the tour wound down at the park's amphitheater.
"Should we start looking around for bags of money?" joked Kathy Lewis, an Arlington resident and frequent park visitor. When the tour ended Lewis, along with the other participants, left wondering out loud at the many times they might have occupied the same park as one of the worst spies in American history.
Abugattas does an excellent job of incorporating local details into his tour, providing a unique perspective of the Hanssen spy story that one won't find in the many books and films produced on the topic. The next tour takes place on February 18, on the anniversary of Hanssen's capture.
If, however, espionage isn't your thing, or if you can't wait until February to visit Long Branch, activities and special events occur daily at the nature center. A rainy day is a particularly good time to stop by, according to weekend staffer Judith Richtett, as the center offers kids "hours of indoor educational play," and access to live owls, snakes, amphibians and other creatures treated in its in-house rehabilitation center.