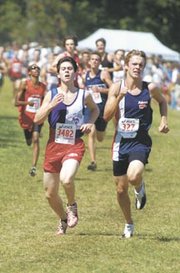 The Stone Bridge High girls' volleyball team concluded the regular season with a dramatic win over Langley Oct. 23. The Bulldogs, in a match for the regular season Liberty District title, won three games to two (12-25, 25-18, 22-25, 26-24, 15-12).
Both teams entered the season finale with identical 5-0 district records, so the meeting was for the regular season title and top seeding for this week's tournament.
By beating Langley, Stone Bridge (6-0 in the district) earned the No. 1 seed and was scheduled to meet No. 8 South Lakes in a first-round match on Monday of this week. Meanwhile, No. 2 Langley (14-5 overall, 5-1 district) was scheduled to meet No. 7 Marshall. Semifinal matches were set to be held the following day, Tuesday, Oct. 28. The finals will take place Thursday night, Oct. 30, at Stone Bridge High in Ashburn, beginning at 7 p.m. As the top seeds, Stone Bridge and Langley could meet in the finals.
Stone Bridge's Lily Vera was recently named the district player of the year and Jill Raschiatore earned coach of the year recognition for the Bulldogs. Other Stone Bridge players named to the all-district team were Sarah Norton (first team), Lindsay Gill (first team) and Christine Beckham (first team).
<sh>Cross Country Results
<bt>The Potomac Falls girls captured the team title at the Dulles District cross country championships, held at Ida Lee Park in Leesburg Oct. 23. The Panthers scored 40 points, finishing ahead of runner-up Briar Woods (68).
Briar Woods' top finishers were sophomore Giana Leone (third), freshman Alexa Kniley (fifth) and freshman Madison Horner (14th).
Broad Run's top finisher was junior Riley Newland (11th).
On the boys' side, Potomac Falls (27 points) was the team champion, besting second-place Dominion (46). Briar Woods (119) was fourth.
Briar Woods' top finisher was junior Zach Deaton, while Broad Run's top runner was senior Brandon Tully.
The Liberty District boys and girls cross country championships were held Oct. 22 at Burke Lake Park. On the boys' side, Jefferson (19 points) finished first, ahead of second-place Woodson (52), third-place South Lakes (98) and fourth-place Stone Bridge (137). The top-four team finishers at districts earned a spot at the upcoming Northern Region championships, set to be held this Thursday, Oct. 30, at Burke Lake Park.
Stone Bridge's top finishers were sophomore Joe Lynch (18th overall), senior Ryan McPoland (19th) and junior Reed Sullivan (20th).
On the girls' side, Jefferson was also the top-team finisher with 25 points. The other three teams to qualify for regionals were second-place Woodson (64), third-place Langley (89) and fourth-place Stone Bridge (98).
The individual champion on the girls' side was Jefferson sophomore Stephanie Marzen (18 minutes, 01 seconds). Stephanie Paradis, a Stone Bridge High senior, was second with the same time of 18:01. Other top finishers for the Bulldogs were sophomore Caroline Snell (16th), freshman Danielle Swasey (22nd) and senior Megan Dunne (24th).
<sh>Falcons Win Again
<bt>The Briar Woods' football team (7-1) won its Dulles District home game over Heritage last Friday night, 30-9. The Falcons led 17-9 after three quarters before outscoring the Pride 13-0 in the fourth quarter to win. Running back Essray Taliaferro had a huge game, rushing for 216 yards and three touchdowns. Matt Eisenman also ran for a score for Briar Woods. The Falcons play at 7-1 Potomac Falls this Friday night.