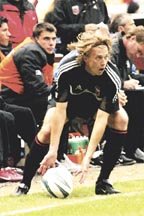 When the phone rings at 12:30 a.m., the mind rarely thinks positive thoughts. It especially doesn't think a trip to the southern Caribbean could be on the horizon.
But for Springfield native Brian Carroll, who plays for Major League Soccer's Columbus Crew, a phone call alerting him that he'd be needed in Trinidad came early in the morning of Monday, Oct. 13.
Carroll was less than 15 minutes away from his house when he was informed that his services would be needed for the U.S. Men's National Soccer Team's tune-up for the 2010 FIFA World Cup qualifier that Wednesday.
After two players suffered injuries during MLS action on Sunday, Carroll's experience and steadiness made him the perfect emergency fill-in.
"I was available to go and it worked out because of my schedule," said Carroll, who packed his bags and woke up around 6:30 a.m. for a flight out of Columbus. "I was happy to go and if anything comes of it further then that's great, but I don't look too much into it."
The 27-year-old Carroll played for three years under coach Dennis Patrick at West Springfield and went on to earn a soccer scholarship at Wake Forest. As a Demon Deacon, Carroll won numerous all conference and National Soccer Coaches Association of America Awards, including third team All-America honors twice.
In the 2003 MLS SuperDraft, Carroll was selected by his hometown D.C. United. Carroll spent his first season getting acquainted with the professional game and started 26 of 30 games during his sophomore campaign when D.C. United won the MLS Cup.
"Whatever role you define for him, he does his best to play within those parameters," said current Stone Bridge coach Randy May, who took over for Patrick at West Springfield in 2001 and served as an assistant coach prior to that. "He has excellent vision on the field and he had a real awareness to keep the ball moving and find his teammates and connect things between the backs, midfielders and forwards."
<b>COUPLED WITH HIS</b> emergence within MLS, Carroll became more accessible back home. He helped May switch from West Springfield to Stone Bridge during the spring of 2005, and, according to May, "brought a level of professionalism to the program."
Carroll, who scored his first MLS goal on Aug. 6, 2005 and logged more minutes (2,612) than any other D.C. United player that season, had seemingly taken that level of professionalism everywhere he went.
When San Jose selected Carroll during the 2007 MLS Expansion draft and subsequently traded him to Columbus, that professionalism was forced to move, with his wife Katie Carroll, to Ohio.
"When he was with D.C. United, he was kind of the glue in the middle of the field," said current West Springfield coach Andy Saffron, who took over for May prior to the 2005 season. "He's always been one of the leaders on whatever team he's played on, and I think that's a tribute to him."
So when the U.S. National Team selected Carroll to replace injured players Pablo Mastroeni and Robbie Rogers, the do-anything-for-the-team-type player made the trip. Two days after his contributions against Trinidad and Tobago, Carroll was back with Columbus for an MLS match in New York on Saturday.
"It was quick turnaround, but any time you get called in it's great," said Carroll, whose brothers Pat and Jeff Carroll currently play for D.C. United. "I was able to go down and help the country even though I knew it would be in a limited role, but I don't look too much into it. I'm just trying to do what I can do and control what I can control."