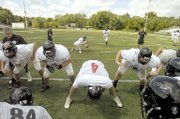 Vienna area high school football teams Oakton, Madison and Marshall each were victorious in their respective late season games this past Friday night. Oakton, in a season that could be remembered as one of the best in the history of the program, defeated Westfield, one of the Northern Region's top teams, by a 30-18 score. The Concorde District game took place at Westfield. Oakton, with the win, improved to 9-0. The Cougars will be looking to complete a perfect regular season record when they close the fall schedule out with a district home game against Herndon this Friday night at 7:30.
The Hornets (6-3) are one of the surprise teams in the tough Concorde this season. Two weeks ago, they handed Westfield (7-2) its first loss of the season before falling at Robinson last week.
<b>OAKTON</b>, which has clinched the district title, jumped ahead of Westfield, 14-0, in the first quarter. Westfield, however, scored two touchdowns of its own in the first half and trailed just 17-12 at the half. After a scoreless third quarter, Oakton outscored the Bulldogs 13-6 in the final quarter to gain the win.
Oakton QB Chris Coyer threw touchdown passes to Jay Young (23 yards) and Wade Reynolds (70 yards), and also ran for a 31 yard touchdown. Running back Trey Watts (17 carries, 133 yards) scored on a 78-yard run. Kicker Ray Goins booted a 19 yard field goal and converted three extra points.
<b>MADISON</b> (5-4), meanwhile, won its Liberty District game at winless McLean, 49-10. The Warhawks, who close their season at Marshall this Friday night, broke the game open after a scoreless first quarter, scoring two touchdowns in the second quarter, two more in the third and three in the fourth. Madison running back Sasha Vandalov (21 carries, 140 yards) ran for a touchdown and quarterback Will Clarkson passed for two scores and ran for another to lead the Warhawks, who broke a two-game losing streak. Will Cybulski caught a 17-yard TD pass and Kevin Sampson caught one from 46 yards out. Mike McCool also ran for a score.
Defensively, Ben Powers returned an interception 50 yards for a touchdown.
McLean's points came on a 35-yard field goal by Alex Rosenbaum. The Highlanders' touchdown came on a defensive fumble recovery in the end zone.
McLean will close out the season at local rival Langley this Friday night.
<b>MARSHALL</b> earned its fourth win of the season with a 14-12 triumph at South Lakes, which was celebrating its homecoming. The Statesmen, who led 14-6 at halftime, got touchdowns from running back Victor Vanegas (5 yard run) and receiver Aaron Gooding, who caught an 11-yard scoring pass from quarterback Harold Sweet. John Peterman converted successful extra point kicks following both of the Marshall touchdowns.
The Statesmen had good success running the football as QB Sweet ran 10 times for 116 yards and Vanegas rushed 17 times for 67 yards.
South Lakes (2-7), trailing 7-0, got a 58-yard touchdown run from Brandon Price in the first quarter to get within 7-6. Price rushed for 106 yards on six carries on the night. South Lakes' second touchdown came on a five-yard run by Ja'Juan Jones in the third quarter to get the Seahawks within 14-12. There was no scoring in the fourth quarter.
South Lakes will wrap up the regular season with a home game against Jefferson this Friday night.
Herndon, coming off its biggest win of the year when it defeated Westfield on homecoming, lost this past Friday night to a struggling but still dangerous Robinson High team, 41-23. The Concorde District game took place at Robinson.
Herndon, with the loss, slipped to 6-3 on the season, while Robinson, a traditional power in Northern Virginia, improved to 4-5. Herndon, which is looking forward to the upcoming Div. 6 Northern Region playoffs, will close out the regular season this Friday night at Oakton.