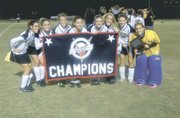 The Westfield field hockey team, somehow, had figured out how to run before it could walk.
By winning the 2006 Northern Region championship as a No. 4 seed, the Bulldogs had achieved the highest honor outside of a state title before achieving the most basic: a district title.
In 2005 — Westfield's closest shot at a Concorde District crown — the Bulldogs fell to Oakton in the district final and bowed out last season with a first-round loss to Fairfax.
"[A district title] has been a program goal for the past couple years," said coach Terri Towle, whose team won its first-ever district title with a 2-0 win over rival Chantilly last Thursday. "We've been to the district championship before, but we've just never managed to win that game."
Towle's team was successful against Chantilly because of its effectiveness both generating and scoring off of penalty corners. The Bulldogs forced 13 penalty corners and only the Chargers to attempt only one. They also outshot Chantilly, 17-1.
<b>SENIOR FORWARD</b> Amanda O'Sullivan finished a rebound from the right of the cage with 19 minutes, 42 seconds remaining in the second half to give the Bulldogs a 1-0 lead before junior defender Kelsey Grainer scored off of a feed from senior midfielder Kat Kendrick nearly five minutes later to seal the win.
"We've been working really hard all season," O'Sullivan said. "We had to get through a couple rough spots this season, which really made us want this super, super bad and it feels awesome."
The Bulldogs, who improved to 17-3 this season after a 1-0 win over West Springfield on Tuesday night in the first round of the region tournament, have benefitted from a wealth of offensive talent.
Though sophomores Annie Martello (6 goals) and Blair Duncan (6 goals) lead the team in scoring, nine different players have combined to produce Westfield's 39 goals, including five apiece from seniors Ameera Ahmadieh and Kayla German. Meanwhile, senior goalkeeper Nicole Ficarra has compiled 12 shutouts.
"This is amazing. Everybody is so excited," Grainer said. "Now we're just focusing on the regional tournament and hopefully we can get through that too."
More like this story