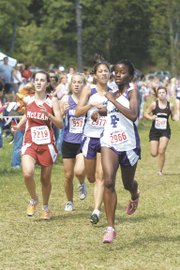 The Potomac Falls girls captured the team title at the Dulles District cross country championships, held at Ida Lee Park in Leesburg on Oct. 23. The Panthers scored 40 points, finishing ahead of runner-up Briar Woods (68).
Potomac Falls' top finishers were sophomore Melissa Saunders (second place overall), Shannon Brady (sixth), freshman Kaeley Brady (ninth), sophomore Rachel Hagen (10th) and junior Rachael Diniega (13th).
Dominion High sophomore Buffy Misanin was eighth overall for the sixth-place Titans.
Briar Woods' top finishers were sophomore Giana Leone (third), freshman Alexa Kniley (fifth) and freshman Madison Horner (14th).
Broad Run's top finisher was junior Riley Newland (11th).
On the boys' side, Potomac Falls (27 points) was the team champion, besting second-place Dominion (46). Briar Woods (119) was fourth.
Potomac Falls was led by seniors Josh Hardin (first place overall) and Ryan Hagen (second). Also for the Panthers, senior Brian Robinson (fourth), junior Alvaro Morales (ninth), senior Andrew Mott (11th) and sophomore Patrick Wilson (13th) each placed.
Dominion's top finishers were sophomore JT Duke (third), senior Jimmy Rion (seventh), senior Nick Phillips (eighth) and sophomore Nick Sharp (10th).
<sh>Volleyball Results
<bt>The Park View High girls' volleyball team wrapped up its regular season schedule on Oct. 23 with a three games to one match win at Dulles District opponent Freedom. The game scores were 25-18, 16-25, 25-13 and 27-25. Park View had good matches from Kristin Oravetz (10 digs), Lindsey Doscotch (six digs), Aby Burkel (21 assists), Denni Johnson (eight kills, four aces), Tabby Pham (eight kills) and Brittany Griffin (six aces, five kills).
Earlier last week, Park View lost a district home match to Briar Woods, three games to none (12-25, 22-25 and 15-25).
Park View (5-16) was set to begin play in the district tournament on Tuesday of this week.
Briar Woods, in its win over Park View, received particularly stellar play from Kim Bell and Krysta Gardner (seven kills each), as well as Brea Hewitt and Bailey Jensen (three kills, four blocks), Natalie Deffer (two blocks), Emily Jensen (four service aces) and Chelsea Kaser (three digs). Gardner had five digs.
Briar Woods also won a district match over visiting Handley on Oct. 20, three games to none (25-16, 25-20 and 25-8) to improve its record to 11-6. All of the Falcons' players received good playing time in the match. Briar Woods outscored its opponent at one point, 31 to 8, from near the end of the second game and through most of the third game. Individual statistical leaders for the Falcons were Krysta Gardner (13 kills, four digs), Kim Bell (four kills, three service aces), Bailey Jensen (five kills, five blocks), Brea Hewitt (three kills, one block), Casey Roche (five digs), Chealse Kaser (four digs) and Caitlin Ronan (22 assists). Homecoming queen Emily Jensen served nine straight service points, including four aces to seal the victory.