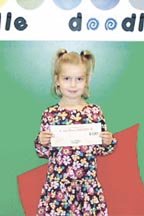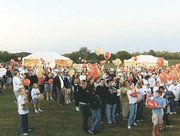 Send announcements or events, which are open to the public at no or minimal cost, to The Loudoun Connection, 7913 Westpark Drive, McLean, VA 22102 or e-mail <a href="mailto:loudoun@connectionnewspapers.com">loudoun@connectionnewspapers.com</a>. Deadline is Friday, two weeks before the event. Photos/artwork encouraged. For more information, call 703-917-6454.
A poem by Joan Flaherty, 7, of Ashburn, has been selected for publication in Spider magazine. In May, readers were asked to submit an original poem about an older person. Joan's poem, "Mt Friend Kate," appears on the Spider's Corner page of the October 2008 issue. Spider is a magazine for children ages 6-9 and features short stories, poems, articles, multicultural features and activities by children's authors.
Ashburn author, J.J. Conte, has used the proceeds from the sale of his books, "Down the Yellow Brick Road" and "Flies in my Spaghetti, Chocolates Over the Wall" to pay for four tube wells in Sahay, India. As a result, 768 families can have fresh water in their communities. The project was completed in conjunction with Children International. He intends to offer his next book for organizations to sell, all tax deductible through his foundation. The organizations can keep every penny they raise for their charitable work in excess of the $10. For more information, visit www.alsgroup.org.
Tracy Fitzsimmons, 41, began her new position as president of Shenandoah University July 1 and a two-day inauguration celebration was held Sept. 25-26, 2008. Fitzsimmons is the youngest sitting university president in Virginia.
On May 1, Shenandoah's board of trustees voted to elect Fitzsimmons, then the university's senior vice president and vice president for academic affairs, to succeed James A. Davis as president. Fitzsimmons is the first woman president of the 133-year-old institution and the fourth president to serve at the Winchester campus since the institution moved from Dayton, Va., in 1960.
Fitzsimmons began her tenure at Shenandoah University in 2001, when she joined the faculty as dean of the College of Arts and Sciences and also as a professor of political science. Prior to coming to Shenandoah, Fitzsimmons was a tenured associate professor of government at the University of Redlands in Redlands, Calif.
Mikey T and Big Macette, members of the Hogettes of Washington Redskins fame, entertained Loudoun County's Resource Families at the recent annual picnic held by the Department of Family Services. The picnic offered the opportunity for foster children and their resource families to spend time together.
Area Thomas Jefferson High School for Science and Technology students were named to the list of 16,000 semifinalists for the National Merit Scholarship. Daniel Holohan, Brian Jang, Ashley Lewis, Ginny Kim, Brian Tubergen and Michael Chang, all of Ashburn, will vie for one of 8,200 scholarships worth $35 million that will be awarded in the spring. More than 1.5 million high-school juniors were eligible for the award.
Loudoun resident Amina Rana was appointed by Gov. Timothy Kaine to the state's Council on the Status of Women.
The Metropolitan Washington Airports Authority board of directors has elected H.R. Crawford to chairman, Charles D. Snelling to vice chairman and Quince T. Brinkley Jr. to secretary. The 13-member board is appointed by the governors of Virginia and Maryland, the mayor of the District of Columbia and the president of the United States.
Army Reserve Chief Warrant Officer 2 Albert Santiago has been mobilized and activated for deployment overseas to a forward operating base in support of Operation Iraqi Freedom.
The warrant officer, a commander with 15 years of military service, is normally assigned to the 157th Combat Sustainment Support Battalion, Willow Grove, Pa.
He is the son of Luz Delgado of Fort Evans Road, Leesburg. Santiago graduated in 1986 from Washington Lee High School, Arlington and received a bachelor's degree in 2003 from Strayer University, Ashburn.
Loudoun County Fire-Rescue volunteer, Chaplain Gary Myers, has received the Industrial and Commercial Ministries (ICM) Northern Virginia Chaplain of the Year Award. Myers was recognized as the Public Safety Sector award recipient at the Annual ICM banquet. ICM is a ecumenical, not-for-profit organization that equips, places and supports volunteer chaplains in American workplaces.
Myers is a volunteer chaplain for Loudoun County Fire-Rescue Station 6 in Ashburn. He has been ministering to the career and volunteer staff in Loudoun County for many years. Myers regularly responds to emergency incidents to assist the first responders and citizens of Loudoun.
The following Virginia Tech students have gained membership to the Marching Virginians at Virginia Tech. To qualify for the marching band students must audition one week before the beginning of classes each fall. Bonnie Bailey of Leesburg, junior majoring in biology in the College of Science; Tony Bauer of Leesburg, a junior majoring in civil engineering in the College of Engineering; Zach Buckley of Leesburg, freshman majoring in general engineering in the College of Engineering; Kevin Burke of Leesburg, freshman majoring in communication in the College of Liberal Arts and Human Sciences; Catherine Christensen of Ashburn, sophomore majoring in biochemistry in the College of Science; Kevin Costello of Ashburn, sophomore majoring in general engineering in the College of Engineering; Bennett Layman of Leesburg, freshman majoring in general engineering in the College of Engineering; Valerie Rankin of Ashburn, sophomore majoring in university studies at Virginia Tech; Craig Sossi of Ashburn, senior majoring in aerospace and ocean engineering in the College of Engineering; Angela Turner of Leesburg, senior majoring in environmental science in the College of Agriculture and Life Sciences; Sam Tutko of Ashburn, sophomore majoring in aerospace engineering in the College of Engineering; Nichole Uiterwijk of Ashburn, junior majoring in English in the College of Liberal Arts and Human Sciences and Matt Ziegler of Ashburn, senior majoring in aerospace engineering in the College of Engineering.
Army Pvt. Nicole A. Mejias, daughter of Son Nguyen of Leesburg, has graduated from basic combat training at Fort Jackson, Columbia, S.C. During the nine weeks of training, the soldier studied the Army mission, history, tradition and core values, physical fitness, and received instruction and practice in many areas.
Adam Smith of Ashburn, a senior majoring in mechanical engineering, is the Virginia Tech Corps of Cadets Delta Company Commander for the 2008-09 academic year.
Junior and senior corps of cadets interview for leadership positions in the spring semester and serve in their assigned position for the fall or spring semester of the following year. Cadet officers lead between 30 and 200 cadets.
Brianna Trocki, 5, won firstst place for her age group in the 8th Annual Greater Washington Arts Committee's Youth Art Fest that took place at Reston Town Center Pavilion Sept. 27. Brianna, who is attending Loudoun Country Day School has been taking art classes at Noodle Doodle since she was 15 months old.
More like this story