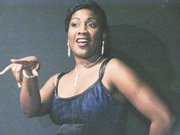 With fourteen songs from Pearl Bailey's repertory, singing actress Roz White takes the stage at MetroStage to survey the career of that other singing actress whose flippant asides in the midst of her songs made her a star from the end of World War II to the heights of Lyndon Johnson's "Great Society." From 1946's "A Woman's Prerogative" and "Legalize My Name," both of which she introduced in her Broadway debut in "St. Louis Woman," right through "Hello Pearly" to recognize her success leading the 1968 all-black cast version of "Hello Dolly" twenty-two years later, the show covers Bailey's unique blend of comic blues delivery.
"Pearl Bailey … by Request" is the latest in a string of shows that MetroStage has mounted which pay tribute to an artist of the past in a format that approaches a lounge act, "An Evening With …" type of show that can be a good deal of fun.
It isn't the best of the bunch – clearly "Cookin' At The Cookery," which recreated a late-career appearance by blues singer Alberta Hunter can claim that honor. However, it does provide a pleasant diversion for a while. The show, performed without intermission, runs just over an hour.
White is a talented performer who can deliver these songs with style. That style isn't exactly a duplicate of Bailey's but it is close enough to give you a feel for her subject's gifts. Besides, Bailey was often referred to as "inimitable," as in: can't be imitated. Many impersonators tried, and some succeeded more than others, but what White is doing at MetroStage is more suggestion of a style than an impersonation.
She's joined for a few of the numbers by William Hubbard in the role of Hot Lips Page, the trumpeter and singer who had accompanied Bailey in recordings of Frank Loesser's "Baby, It's Cold Outside" and the racy blues number "The Hucklebuck," both of which are included in this show.
Throughout the show, White is backed by a solid jazz combo headed by pianist Marvin Ford and featuring the smooth guitar sound of David Cole. Cole provides some of the most satisfying musical moments of the show, especially his neat work on Fischer and Roberts' "Fifteen Years."
Fischer and Roberts provided two other songs for Bailey that make it into this show, "That's Good Enough For Me" and the comic blues "Tired" which becomes a highlight in White's rendition.
The show ends on a spirited version of "Won't You Come Home Bill Bailey," a song Pearl Bailey sang frequently.
MetroStage has decked out its playing space with a pair of art deco panels and a shimmering back curtain while placing the combo on stage. The sound fills the small space nicely and there are even a few cabaret tables in front of the stage for patrons who wish to bring a drink in from the lobby concession stand.
<i>Brad Hathaway reviews theater in Virginia, Washington and Maryland as well as Broadway, and edits Potomac Stages, a website covering theater in the region (www.PotomacStages.com). He can be reached at Brad@PotomacStages.com.</i>