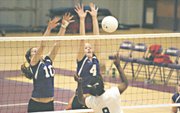 By dropping the second game of Thursday night's Concorde District volleyball final against Westfield, the Chantilly Chargers lost a game for the first time since Oct. 6.
As the Chargers' remarkable run of consistency came to a close -- they've still lost only three games since the second match of the season -- coach Charles Ezigbo's team trudged its way to the bench.
It was only one game, but against an explosive and emotional Westfield squad, it could've easily multiplied into more.
Instead, Chantilly increased its intensity and focus. The Chargers started to pass with more precision and jumped out to a 4-1 lead in Game 3, prompting a timeout from Westfield coach Jim Bour.
"We had a comfortable lead and we just started making mistakes," said Ezigbo, whose team dropped Game 2 by a score of 25-17 but stormed back to take the match, 3-1. "We calmed down and just played the game at the game's pace rather than our forced pace, and I think that was helpful."
With the win (25-22, 17-25, 25-18, 25-22), Chantilly (20-1) won its first district title since 2004. The Chargers will face the Patriot District's No. 4 seed during next week's Northern Region tournament, which tips off Monday at 7 p.m.
Against the Bulldogs, Chantilly rode the swings of its top two offensive threats and boasted a devastating middle block that held the Bulldogs' attack at bay.
Juniors Samantha Reeves (12 kills) and Allison Williams (9 kills) led Chantilly's offense, while senior Jessica Cooper and Christy Harper were responsible for clogging up the middle of the net.
"We like to focus on what's happening on the other side of the court, as well as what we're doing," said Cooper, who also chipped in with four kills. "If we're watching where their passes are going and what the tendencies are of their setters, we can see the path that their hitters are on and put up that brick wall."
<b>THAT BRICK WALL</b> didn't completely negate the Concorde District Player of the Year -- Westfield senior Sammy Spees, who finished with 14 kills, 10 digs and two aces.
Spees, along with senior Kat Lanigan (28 assists, eight digs), senior Kelly Murray (eight kills, three blocks) and junior Clare Lanigan (team-high 14 digs), led the Bulldogs but, according to Bour, it's been a team effort that has Westfield playing its best volleyball of the season.
"We've been getting better every time we've played [Chantilly]," said Bour, whose team fell to 17-6 and will face the Patriot District's No. 3 seed on Monday. "[Spees] made some great plays, but everybody stepped up. You could see the girls jumping, and when you see that out of the corner of your eye that they're all supporting each other, that's what important."
After starting Game 1 tied at 10, Chantilly went on a 10-2 run to claim an 18-12 advantage. Westfield closed to within 21-19, but the Chargers finally put the first game away thanks to one of six kills from junior Jamie Gorman.
In Game 2, Westfield used a 9-1 run midway through to grab a 20-15 lead, taking the game for good when a Reeves attempt sailed out of bounds.
Reeves improved to post four kills in the
third game and Chantilly scored a 25-18 win after, of all things, another successful block attempt.
Game 4 featured 15 ties and eight lead changes, as the Chargers snagged the lead for good (22-21) on a successful kill attempt from junior Joanna Powers.
"We've had a lot of practice and a lot of stressful moments, but we all pulled together and it feels great to finally have accomplished our goal," Williams said. "You never want to lose a game, but I think that was good to help us re-focus and it really showed us how much we wanted it."