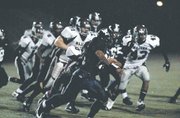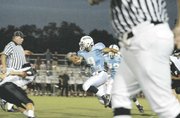 Washington-Lee coach Josh Shapiro can only laugh at this point, knowing full well almost 26 years of bad luck can not be reversed so easily.
But in just his second season at the helm, Shapiro and his Generals currently sit sixth in the Northern Region Division Five power point standings, one spot behind Arlington rival Yorktown, a team they haven't beaten since 1982.
And as luck would have it, the two teams face off this Friday at 7:30 on Halloween Night in a neighborhood rivalry that has taken on some renewed excitement this season. It all seems a little too perfect for W-L (5-4 overall, 3-2 National District), which lost a nail biting 13-7 contest at Yorktown to close out the 2007 regular season.
"Last year, I think we took such great strides and we played Yorktown competitively, but a win here would be fantastic, it would be icing on the cake," said Shapiro.
In some ways the pressure of the losing streak is ratcheted down for the Generals this time around. After all, with five wins they are already guaranteed their first non-losing season since 1993 and barring something unforeseen will make the Northern Region playoffs.
According to players, though, there's no better time to establish a new identity for W-L football after years of playing second fiddle to Yorktown.
"(A win) is basically saying the program has changed starting with us and that's what we want to happen," W-L's senior running back Keith Johnson said. "We want everyone to see this program in a different way than they've seen the past few years. We want to make sure that if we win this game that they know we're serious and we're going to continue to be serious."
Perhaps what makes this year's game even more interesting is the strong resemblance W-L and Yorktown (5-4, 3-2) share on the field. Both team's offenses rely on a senior playmaker at quarterback (Kyle Toulouse at Yorktown and Charlie Fuller at Washington-Lee) to create big plays. Toulouse and Fuller also happen to play in the secondary on defense as well.
Both defenses are dictated by the play of two hard-hitting middle linebackers. Shapiro calls junior Rock Battle a "tackling machine", while Yorktown's Kenneth Bailey sets the emotional tone for his squad.
With all the talk of a W-L resurgence, Yorktown players and coaches have taken notice. Led by coach Bruce Hanson, who in 24 years has 24 consecutive victories over W-L, the Patriots know full well what they're up against when they visit their crosstown rival.
"All you here is W-L this, W-L that," running back Charles Banks said following Yorktown's 22-20 loss to Mount Vernon last Friday night.
Added Bailey: "W-L ain't no joke."
After a crowd of about 4,000 came out for W-L's homecoming game against Wakefield on October 10, Shapiro said he expects even bigger numbers for what has turned into the game of the year in Arlington.
For the first time in awhile, whether they witness 26 years of losing wiped clean is anyone's guess.