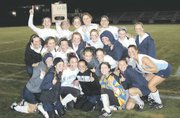 Three straight fruitless penalty corners had gone by in the overtime period of last Thursday's National District field hockey tournament final between Yorktown and Washington-Lee, and the missed opportunities had Yorktown coach Rebecca Guy searching for answers.
So close were her Patriots from capturing their first outright district tournament title ever that failing to score on the fourth penalty corner may have sent Guy to an early grave.
Luckily for Yorktown, its coach wouldn't have to face her mortality as senior Olivia Shipley ripped a shot that was tipped past the Washington-Lee goalkeeper by junior Hope Barrazatto with six minutes remaining, giving the Patriots an elusive 2-1 overtime win.
"It was heartbreaking one after the other, and then when we eventually put it in, it was so sweet," said a relieved Guy afterwards. "It was such a great ending."
The extra frame made for some extra running as well, thanks to official field hockey rules that allow seven players on the field for each team, as opposed to the 11 players on the field in regulation. It led to some wild exchanges, with both sides garnering breakout opportunities.
"It was really frustrating because it was 7-on-7 and it's hard to get everyone up there," said Barrazotto, who was named National District Player of the Year and was a member of the all-tournament team. "It's a lot of running, so it came down to who was the most fit team."
The game between the two rivals was a rematch of a 4-2 Yorktown win on October 6. Even after that victory, Guy and her players knew they'd likely face off with the Generals once again. Each team came into the district final as the top seed on their side of the tournament bracket.
At the outset of last Thursday's final, it appeared the Patriots and Generals were about to embark on another high-scoring affair. Yorktown struck first when senior Jackie Segar scored less than two minutes into the game.
But unlike their regular-season matchup when Washington-Lee fell behind 2-0 early on, the Generals responded with a goal five minutes later.
From there, the two teams battled back and forth scoreless until Barrazotto's tally in sudden death overtime. Both Yorktown (13-5 overall, 8-0 district) and Washington-Lee (13-7, 6-2) advance to the Northern Region field hockey tournament, being held this week at Oakton High School in Vienna.
"This is our main rival, we had to win," Barrazotto said. "We were real tired, we had both played the whole game, but we weren't giving up."