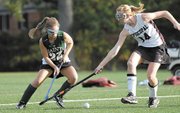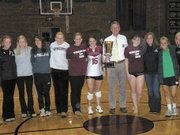 It wasn't until the final contest of the Seminary Hill Cup — a volleyball match between St. Stephen's/St. Agnes and Episcopal — that organizers began to understand just how receptive the world can be towards girl's sports.
Last spring, Samantha Eustace, the girl's athletic director at SSSAS, and Jen Seferiadis, the girl's athletic director and soccer coach at Episcopal, put their heads together to create an all-girl's competition pitting the two neighborhood rivals against each other.
Eustace had seen something similar go on at a prep school she used to work at outside of Boston, where two schools' sports teams met up on the same day. With the template already in place, all the two athletic directors had to do was maneuver their teams' schedules work so that every girl's team on campus met on the same day.
"Jen and I had talked about trying to do something with both schools and at my last school we did something like this," Eustace said. "It was the same concept, every sport counts as a point towards the cup, both JV and varsity, and we did it all on a Saturday."
Added Seferiadis: "It just kind of fell into place because we're playing them in every sport anyways. And it seemed to make sense to kind of pull something together that was a little
more formal and something that celebrates girl's athletics."
Now, six months later, the event they planned was coming down to one last varsity volleyball match. SSSAS was leading, 5-4, in Seminary Hill points, but Episcopal held the tiebreaker since three of its varsity squads had already won.
Episcopal volleyball coach Mike Petock was informed of this development after his team had already taken the first two games of the best-of-five match, 25-22, 25-20. He kind of had a feeling, though, considering the raucous student sections that had migrated from other Seminary Hill Cup games outside to cozy Centennial Gym on Episcopal's campus.
"I told them before the final game (about the point total), and it's not like they were down, but it definitely helped their enthusiasm a bit," Petock said after his team won the final game, 25-18, to secure Episcopal of the first-ever Seminary Hill Cup. "I was glad we had a chance to participate and I was glad we were able to pull it out for the school."
The win allowed the captains of the ten Episcopal girls' teams to celebrate on their home floor alongside a boisterous pack of students and the actual Seminary Hill Cup trophy.
<b>THE EVENT ACTUALLY</b> began in the beginning of October when the varsity and JV cross country and tennis teams of SSSAS and Episcopal squared off, with each side splitting those four events. 2-2.
That created a raucous and spirited atmosphere around the Episcopal campus, as the final six events took place simultaneously. Parents, fans, and even players from other squads wandered around campus hoping to get a glimpse of at least parts of all the action.
"I think everyone is just really excited about supporting the girls because I guess, it's our turn," said Episcopal varsity field hockey player Emmie Burns, who made her way over to cheer on her varsity soccer counterparts.
"It shows a lot of school spirit for both schools," said Saints field hockey player Taelor Salmon said while watching the girl's volleyball match.
Both Eustace and Seferiadis made it a point to include JV squads in the event, since this wasn't just about who has the better teams. It was a school wide initiative to get people more interested and more vocal in all girls' sports.
One year in, it looks as if the Seminary Hill Cup could become a momentous occasion for years to come.
"It seems like a natural rivalry that has developed over times anyways and this is in some ways formalizing it, but this is really just an opportunity to give the girls something else to be excited about," said Seferiadis.