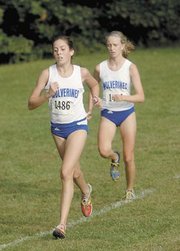 When it comes to high school cross-country season, hitting one's peak can be a tricky thing to master.
Notching that personal-best early in the season becomes a moot point if a runner slows down once championship season hits. And it doesn't help that pacing oneself to peak at just the right time is hardly a given.
A runner's season ebbs and flows just like the 3.1-mile race run by each of the participants in last Thursday's Patriot and National District Cross Country Championships held at Burke Lake Park.
There are early obstacles (at Burke Lake, that means running uphill from the very beginning), a midpoint where the unexpected can happen (at Burke Lake that equates to the winding run through the woods that takes up a majority of the race), and an ending that requires extra reserves in energy (at Burke Lake that translates into a 200-yard sprint to the finish line).
All this becomes magnified amidst the specter of a district championship, with the fastest moving on to next week's Northern Region Championships and the slow left behind to wonder how they can improve for next year.
Put more simply, the districts are the time borderline runners need to be peaking if they plan on extending their seasons.
<b>LED BY JUNIORS</b> Julianne Bigler and Kelsey Rosenberg, the West Potomac girl's cross country team finished in second place in the Patriot District Championships, just seven points behind Lake Braddock.
The Wolverines used a pack mentality, running together as a team with all seven runners finishing in the top 30 and within two minutes of each other.
Bigler finished in third place individually, clocking a time of 18:17, while Rosenberg followed closely behind in fourth place at a time of 18:29. Freshman Dale Lescher also gave the Wolverines a top 10 showing, finishing the course in a time of 18:46.
The Wolverine boys were nearly as impressive, finishing in third place as a team. Junior Peter Stebbins led the way, finishing in 12th place with a personal-best time of 16:17. Senior Brendan Murphy also gave West Potomac a solid showing, finishing in 18th place individually.
Because of its strong performances, both the West Potomac boys' and girls' teams qualified for the Northern Region Championships, to be held this Thursday at Burke Lake Park.
In the National District race, held about an hour before the Patriot District Championships, the <b>Mount Vernon</b> boy's and girl's cross country teams also turned in respectable runs.
Led by senior Henry Wendelin's 15th-place finish, the boy's team finished sixth overall. Senior Wyatt Carpenter also contributed with a top-30 showing.
The Major girls were a bit better, finishing in fourth place in the team competition. Senior Hylene Vasquez had a remarkable run, finishing in third place individually while blazing through the course in 19:30. Junior Corinthia Evans finished in 10th place with a time of 20:04.