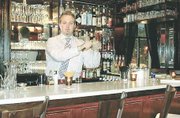 The idea to use celebrity bartenders as a vehicle to raise money for charity seemed so brilliant back in January, when the planning began between sessions at the annual Convention of the the New Orleans Culinary and Cultural Preservation Society. Bring in big-ticket mixologists and put them on stage at the "PX," Old Town's speakeasy quietly lurking above Eamonn's Dublin Chipper on the southeast corner of King and Columbus streets. Each bartender will deconstruct a signature cocktail for what organizers are calling "an evening of cocktails and carryin' on."
"They're all friends of the house," said host Clinton Terry.
Billed as "5 for $50," the maiden-voyage cocktail fundraiser will take place on Nov. 9, with proceedings going to the Alexandria-based National Center for Missing and Exploited Children — a charity close to the hearts of Thrasher and his business partners, Chef Cathal and Meshelle Armstrong, who are also parents of two young children, Eve and Eamonn. A new "magic show" will begin ever 30 minutes, when one of the tastemakers launches a new concoction.
"Let's come together for the children deserving of our attention and a shout out of thanks to those people who protect them every day," said Thrasher in a written statement.
Those who wish to send an RSVP via e-mail, Terry said, should include "Swank Party" in the subject line to clinton@restauranteve.com. For more information, call 703-299-8384.
<hr><b>Masters of the Mix</b>
<b>— Todd Thrasher: </b>Ever since he mixed his first cocktail as a 20-year-old college student (an RC Cola, Captain Morgan rum and a lime) Thrasher has been honing the craft. Now the liquid savant at Eve and the in-house master mixologist at its Old Town speakeasy brother known simply as the "PX," Thrasher has served tobacco-flavored bourbon, pickled martinis and peaches.
<b>— H. Joseph Ehrmann: </b>Better known as "H," Ehrmann mixed drinks from Massachusetts to Arizona before completing an MBA in International Management from Thunderbird, where he also bartended. After touring the distilleries of Europe, Ehramm restored one of the oldest saloons in San Francisco and reopened it as "Elixir," where he has helped to spark a "cocktail renaissance on the West Coast.
<b>— Tad Carducci: </b>After spending the better part of the last two decades as a student of wine, spirits, beer and food, Carducci earned the Advanced Certificate with merit from the Wine and Spirits Education Trust and both the Introductory Certificate and the Sommelier Certification from the Court of Master Sommeliers. When he's not hawking wine on national television with Rocco DiSpirito on NBC's "The Restaurant," he can be found leading the cocktail revolution with the Tippling Brothers, a mixology marketing partnership with Paul Tanguay.
<b>— Charlotte Voisey: </b>She was a sensation in London, sweeping up awards for Best Bartender and Bar of the Year. Then she toured the world showcasing top brands through mixology in Aspen, Las Vegas, Kuala Lumpur, Mexico, New Zealand and New York. She is currently holds role of Glenfiddich Brand Ambassador with William Grant & Sons and also looks after the mixology needs of the company whose portfolio includes Hendrick's Gin, Reyka Vodka and Milagro Tequila.
<b>— Derek Brown: </b>For years, his cocktails have been a fixture in the D.C. bar scene, performing mixology at Palena, Citronelle, and now Komi — a reservations-required upscale Greek restaurant near Dupont Circle. Earlier this month, he delivered a seminar on the history of classic hotel-bar drinks such as the Rob Roy and Singapore sling at the Tabard Inn.