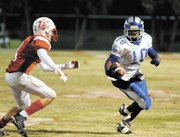 The West Potomac football team is in full-on scramble mode this week after losing its fourth straight game last Friday, 32-27 to the Annandale Atoms. The loss drops the Wolverines record to 5-4 and out of the playoff contention if the postseason were to start this week.
West Potomac does have an outside chance of regaining its grip on the last playoff spot if it defeats T.C. Williams on the Wolverines' senior night this week. South County and Annandale meet this week as well, in a matchup that will likely drop the loser out of the playoff hunt. That would leave the door open for either West Potomac or Langley — should both teams win and depending on how the power points shake out.
Against the Atoms last week, the Wolverines did show improvement after a disastrous showing two weeks ago when they served up a 38-0 clunker of a loss to South County.
Most importantly, West Potomac's two stars got back on track. After a two-interception performance against South County, senior quarterback Cole Walter threw for three touchdowns and 281 yards. Senior wide receiver caught two of those scoring passes and ran for another one, catching six passes and gaining more than 200 yards of total offense. Senior Shawn Lee also chipped in with nine catches for 96 yards.