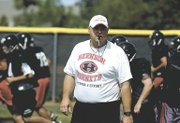 Hopes for the Herndon High football team are that last year's success during the second half of the season will carry on over to the start of the 2008 season. But, of course, last year's solid play over the final five weeks when the Hornets won four of their last five games is no guarantee that the Hornets will be winners in 2008.
Last year's start to the season was a tough one for Herndon, which began 1-4 before turning things around. The Hornets are hoping to start off better this season. They were scheduled to open up their new season earlier this week on Labor Day against Loudoun County's Park View High.
Park View, a member of the Dulles District, is coming off a 10-2 season under coach Andy Hill.
"They have some good, athletic kids there every year," said Herndon coach Joe Sheaffer, of the Patriots.
Herndon has just a handful of starters back from last year's team, but lots of kids back who saw playing time on the varsity. So there is a sense of readiness as the season sets to begin.
"Some of our better players from last year are [still] young," said Sheaffer. "We think we have the right kids. But you never know until you get out and play. There's a lot of excitement and a carryover from last year, but I'm a realist and it's hard to say whether our new guys will rise to the occasion."
Sheaffer did say this year's squad was further along during training camp than last year's team was in terms of understanding the system and getting ready for the season. The Hornets, Sheaffer said, played well in scrimmage games against both Madison and non-Northern Region opponent Hylton High in recent weeks. And on Monday night, they opened the new season with a win over Park View of Loudoun County.
"The kids have had so much better of an understanding [of what we're doing] than last year," said the coach. "We've had a few scrimmages and the kids have looked good."
Against Madison, a member of the Liberty District, Herndon, which competes in the Concorde District, was going up against a talented team that uses the run-oriented double wing formation. Sheaffer said his squad's defense played well against Madison's potent running game. Madison is under veteran coach Gordon Leib.
"Gordon has done a great job at Madison," said Sheaffer, of a Warhawk squad which has been a perennial Div. 5 playoff contender under coach Leib. "His offense is totally different than anything we've seen this year. They have a physical program and our kids need to see that because we play in the [region's best] Concorde."
Sheaffer said his defense also got a good test going up against Madison quarterback Will Clarkson, a second year starter who led his team to a 9-3 overall record last year.
"He throws the ball real well and obviously knows how to run their offense," said Sheaffer. "I wouldn't be surprised to see them in the [Div. 5] playoffs."
Madison opened its season last week with a 21-14 loss to Oakton. The Cougars, like Herndon, are members of the Concorde District.
Herndon will be looking to gain a spot in the larger schooL Div. 6 playoffs. For several years, just four teams qualified for both the Div. 5 (smaller schools) and Div. 6 playoffs. But last year, the playoff field extended to eight teams in both Div. 5 and 6. This year, Herndon will be shooting for one of those playoff berths after barely missing out the last two years.
<b>PLAYING THE QUARTERBACK</b> position for Herndon this autumn will be junior Zack Ozycz, a junior and a part-time starter at QB last year.
"He got better each week last year," said Sheaffer, of his signal caller. "We'll be trying to throw more and see how he does under fire. He's a competitor and plays three varsity sports. His arm strength has gotten a lot better, and his accuracy. He's steadily gotten better. I think Zack can have a big year at quarterback."
Herndon had a huge season last year from senior running back Chris Winston, who is now graduated. Sheaffer said three backs could play key roles on this year's team. Those players are junior Devon Thompson, the Hornets' third leading rusher last year, senior halfback Trevor Johnson and junior fullback Austin Moore, who will also play linebacker on defense.
Sheaffer believes the strength of his team will be its offensive line, which has three starters back. He also feels good about the Hornets' defensive line. Football is often won in the trenches, and Herndon looks fairly solid on both sides of the line.
The coach said his team is inexperienced at the wide receiver position on offense and in the secondary on defense. But he likes the talent level of the players he has in both of those areas of the team.
"Our secondary is athletic but young," said Sheaffer. "But we're as [talented] there as anything we've had in a while."
Herndon competes in a brutally strong district with such powerhouse programs of recent years as Westfield, Oakton and Chantilly. But the Hornets have been in the Div. 6 playoff running each of the past two years. Poor starts in both the 2006 and '07 seasons were a big reason the Hornets did not make the postseason . Sheaffer said his team needs to get off to a faster start this fall. Herndon, following its win over Park View, was scheduled to play local rival South Lakes this Friday night at Herndon. The following week will see the Hornets travel to Langley before opening up its district schedule on Sept. 19 with a home game against Centreville.
"The big thing for us this year is not getting off to a bad start," said Sheaffer. "The last two years we missed the playoffs because of a bad start. I think [the players] know how important it is [to start well]."