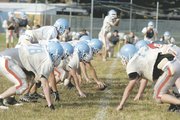 Throughout the Marshall High football training camp, Statesmen head coach J.T. Biddison was impressed by what he saw from his players. They worked hard, back-ups from a year ago were focusing on
playing more important roles this season and the overall attitude was at a good level.
"We had a real good camp," said Biddison, who led Marshall to an 8-4 overall record last year and to a trip to the Div. 5 playoffs.
And the Marshall team carried all of that positive momentum from training camp into its season opening game last Friday night when the Statesmen defeated visiting non-district opponent Hayfield, 23-12.
Marshall, in the win, rushed the football for over 250 yards. Leading the ground attack was junior running back Victor Vanegas, who rushed for 130 yards on 25 carries.
In the first half, Marshall got a punt return for a touchdown from senior Jamie Cleer and a rushing score from senior running back
Christian Ovando. As a result, the Statesmen held a 14-0 lead at the half.
In the second half, John Peterman booted a field goal and junior quarterback Justin Stalcup, who is also the starting safety on
defense, ran for a score.
"It was really about our offensive line," said Biddison, pleased with the holes his line opened against the Hawks to power the running game. On the night, the Statesmen rushed the ball 54 times, eating up lots
of clock and keeping the Hayfield offense off the field.
"Hayfield has loads of talent and their quarterback is dangerous," said Biddison.
Marshall has numerous players starting this season who were backups on last year's winning squad, and several who played JV in 2007.
"We have a lot of guys who didn't start last year," said the coach. "All of a sudden, they're not JV guys anymore. They have a lot to learn."
A lot of that learning took place during training camp and those less experienced varsity members will continue to learn over the course of the season.
Biddison said 40 players (varsity and JV combined) came out for the team last year. That number improved to 57 this season. Last year's successful season certainly has given the program a boost.
<b>MARSHALL</b> defeated Hayfield without its first string quarterback,
senior third-year starter Harold Sweet, who broke his hand during a scrimmage game versus Battlefield High a few weeks ago. The 6-foot-4 inch Sweet could be out for a while, according to the coach.
"He's a great kid, fast, has a good arm and he's coachable," said Biddison, of his injured signal caller. "He's definitely the leader of the team."
Stalcup filled in nicely at the position for the Statesmen against Hayfield, conducting the offense and running for a score. Along with
being the team's quarterback for the present, Stalcup is also a starting safety for Marshall on defense.
"He looked great," said Biddison, of Stalcup's showing at quarterback
against Hayfield. "He did a real nice job. He was going to be one of our top receivers. He was a JV quarterback last year."
Cleer provided perhaps the biggest highlight of the game for Marshall with his 51 yard punt return for a score.
"He probably ran 100 yards [on the return]," said Biddison, joking about Cleer's route to the end zone. "He went from the right side to the left side. He ran around and juked a couple of guys. He's got great stop and go speed."
A year ago, Cleer broke his hand in Marshall's game against Langley. As a result, he played in only three games all season. This season, Cleer, a versatile player, is healthy again and will help Marshall at running back, receiver and at cornerback on defense.
The key to Marshall's success this season, Biddison said, will be how well its offensive and defensive lines fare.
"We'll rely heavily on our lines this year," he said.
Marshall will travel to Fairfax High to take on the Rebels this Friday night.
Quick Reply