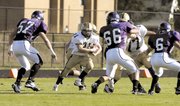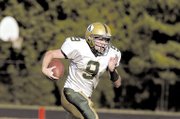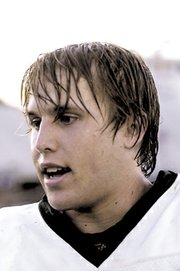 The Chantilly High football team took an early hit before regrouping and defeating a new-look Langley High squad, 21-14, in a week one, non-district contest played on Monday evening at Chantilly.
The Chargers, who two years ago reached the state AAA finals and last year went as far as the Northern Region Div. 6 title game, are undoubtedly going to be a force to be reckoned with again this autumn.
But against Langley, a team that has traditionally been a run-first, power running ball club under current coach John Howerton, Chantilly was going up against more than a worthy season-opener opponent.
Chantilly trailed early, 7-0, before scoring three straight touchdowns from the second through the third quarters to go ahead 21-7. The Saxons, members of the Liberty District, got within 21-14 early in the
final quarter. Then midway through the fourth, the Saxons began a possession at the Chantilly 47. Nine plays later, they faced a fourth-and-nine scenario at the Chantilly 24 with three minutes, 25 seconds left to play. But on the fourth down play, the Chargers' defense came through for a gang sack of Langley quarterback Danny Pritchett to hold off the threat.
The Saxons, still trailing by just the touchdown, would get one last chance on offense when they got the ball back again with 30 seconds left at their own 39. In three plays, Langley, in a hurry-up mode, moved the ball to the Chantilly 38 where it had a first down with 13 seconds left. But three incompletions, followed by a final play interception in the end zone, grabbed by Chantilly junior defensive back Kris Martin, clinched the win for the Chargers.
"We still had a shot," said Howerton, the Langley coach of his team's final quarter drives that could have resulted in game-tying touchdowns. "One big play and the game is tied up and we have the momentum. It was a good effort. I'm not unhappy with the way we played."
Chantilly coach Mike Lalli was sweating out the final few minutes of the ball game as Langley attempted to get the game-tying score.
"I was just thankful time was running out and happy we could hold them and make a couple of plays," he said.
Langley, an improved team that could prove to be powerhouse Stone Bridge High's top contender this season in the Liberty, will be a more diverse offensive team, according to its coach. The Saxons, in the loss to Chantilly, displayed a good offensive mix as Pritchett, their senior signal caller, completed 12-of-27 passes for 115 yards and a touchdown, while their ground game, led by David Helmer's 80 yards,
accumulated 129 total yards. Langley's leading receiver was senior Alex Devlin (6 catches, 63 yards).
"We are a more versatile group," said Howerton. "We're going to do a little bit of everything of offense, which wasn't the case in the past."
<b>CHANTILLY</b> also displayed some offensive diversity. The Chargers had a huge game from senior standout running back Torrian Pace (119 yards and 2 TDs, on 17 carries). In all the Chargers rushed for 180 total yards.
"Their kid [Pace] runs hard," said Howerton. "We had him hit [at times] in the backfield. We have to do a better job bringing people down."
Through the air, meanwhile, Chantilly also had success behind senior QB Roger Strittmatter, who completed an efficient 8-of-13 passes for 107 yards with a touchdown. His scoring pass, a 37-yard post pattern
hook-up to Mike Farris (4 catches, 62 yards), tied the game at 7-7 with 8:22 left in the second quarter.
Chantilly took the lead for good with 50 seconds left in the second quarter when Pace broke through a hole off the left side before fighting off would-be-tacklers to get into the end zone from seven yards out. With the touchdown, the Chargers went into the half ahead 14-7.
Chantilly then took the second half kickoff and marched 49 yards in nine plays to score another touchdown, the score coming on a Pace counter run from 20 yards out.
Martin got the Chargers in great field position for the opening third quarter drive by returning the second half kickoff all the way to the Langley 49.
Langley, after Pace's TD run had made it 21-7, put together its best offensive possession of the game, one that took up nearly 12 minutes of the clock. The 18-play, 67-yard drive concluded when, on a fourth-and-three from just inside the Chantilly four, Pritchett, moving right in the pocket, threw a scoring pass to senior tightend Chris Sievers, who caught the ball in traffic in the right side of the end zone.
"Danny found a little seam in there, a little opening," said Sievers, of the touchdown play. "There were guys all around. He threw it. I was fortunate and brought it down."
Following Farhan Khan's extra point kick, Langley was within 21-14 with 10:23 left to play in the game. And that is how the score remained, despite Langley's late game scoring threats later in the fourth quarter.
<b>IT WAS NOT</b> a particularly crisp game as both teams committed numerous penalties (Chantilly eight for 75 yards, Langley six for 45). Lalli, whose team lost two fumbles, said the Chargers need to clean up their play.
"We had way too many penalties," said Lalli. "It's one of those wins where you're thankful you won, but upset because you didn't perform as well."
The coach, a former Notre Dame football player, was pleased with his team's ability to move the football.
"With us, running is always the key," said Lalli. "For the most part, we were efficient with our passing. We dropped two deep balls that should have been touchdowns."
Lalli said Langley's offense, led by Pritchett, was impressive.
"Their quarterback is pretty good because he can run," said Lalli. "He's one of the best dual threats in the region. Their [offensive] line is really good. They really pounded us, especially on that third quarter drive."
Sievers, Langley's tightend, liked the way his teammates played in giving the Chargers a scare.
"We played until the end of the game," said Sievers. "We have a group of guys willing to play hard the whole game. We have a lot of returning starters and a veteran group. If we continue to play like we did tonight and work hard. I have a feeling we'll have a very good season. This is a different Langley team than in the past. We played one of the better teams and they only beat us by a touchdown."
Chantilly will play at Washington-Lee in Arlington this Saturday night at 7. Langley will travel to Jefferson for a Friday night game.