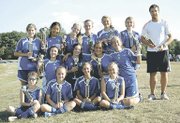 <b>The Great Falls Fire</b>, a U-14 WAGS team, won the Challenge Division of the Dulles National Soccer Tournamant on August 24th. The Fire tied Loudoun 94G Red, and beat both Loudoun 94G Black and BAC Storm to advance to the championship game. The final match against the Vienna Youth Soccer Phoenix Pride team was decided by alternating kicks after overtime.
<b>After being sidelined</b> with an injury over the last 17 months, popular Northern Virginia boxer <b>Jimmy Lange</b> (28-3-2, 20 KOs) will return to action by headlining a live, professional boxing card on Saturday, Nov. 1 at 7:30 p.m. at the Patriot Center in Fairfax. The event, produced by Ice Promotions and headed by Jackie "First Lady of Boxing" Kallen, marks the fighter's sixth appearance at this hometown venue.
Lange has fully recovered from surgery to a shoulder injury that occurred in the first round of his May 12, 2007 World Boxing Council (WBC) Continental America's 154-pound title fight against Fontaine
Cabell. Due to his inability to box during the long layoff, Lange voluntarily relinquished his championship belt which is now held by
Julio César Chávez Jr., oldest son of legendary three-time world champion Julio César Chávez, who won the title in an elimination bout on Feb. 9, 2008.
"I look forward to regaining the momentum from my last fight and continuing my quest to become a world champion," said Lange. "I feel physically stronger than ever, fully recovered from the surgery and ready to step back into the ring at the Patriot Center this fall."
Next month Lange heads down to Vero Beach, Fla. to begin his regular, six-week boxing training session with head trainer James "Buddy" McGirt in preparation for the November 1st fight. Lange's opponent has not yet been secured for the fight card which will feature five to six additional bouts. A native of Arlington and a Bishop O'Connell High School graduate, Lange has headlined all five professional boxing events at the Patriot Center on the George Mason University campus, including
the sport's debut at the arena on Sept. 17, 2005. The junior middleweight drew national attention as a participant on the first season (2005) of the NBC boxing reality program, The Contender, and
possesses an impressive 28-3-2 (20 KOs) record.
Ticket Information: Tickets for the Jimmy Lange fight at the Patriot Center on Nov. 1 are $30, $50, $75, $100, $150, $200, $300 and $500 (VIP Ringside), plus applicable service charges, are on sale now. Tickets
are available through all Ticketmaster outlets, including the Patriot Center box office, online at www.ticketmaster.com
or by phone charge at 703-573-SEAT. Accessible seating is available for patrons with disabilities by calling 703-993-3035. Group tickets and sponsorship are available by calling 703-536-6060.
<b>Great Falls Liverpool</b>, a rising U-14 boys' travel soccer team, is
holding tryouts for the upcoming Fall 2008 season. The team is composed of players from Alexandria, Arlington, Falls Church, Great Falls, Herndon, McLean, Reston and Vienna. The team will be competing in the Old Dominion Soccer League as well as in various tournaments. The team is committed to player development and reaching a higher level of team play. All positions players, including keeper position, are welcome to try out. The team is trained/coached by Krisztian Mikoczi (Northern District ODP coach, assistant coach at Marymount University, and HP Soccer Coach). Tryouts are scheduled for Aug. 19 and 21 at 6 p.m. at Nike Park's field No. 4 (corner of Route 7 and Utterback Store Road, Great Falls). Please contact team manager Nancy Cook at 571-296-1310 or cooknancy@msn.com. Or contact Phil Thiel at thiel.phil@gmail.com.
<b>The 2008 Yorktown High</b> varsity softball staff is hosting tryouts for its Northern Virginia Blaze Travel teams (www.novablaze.org). The team is composed of players from Alexandria, Arlington, Falls Church, Great Falls, Herndon, McLean, Reston and Vienna. Tryouts for a new 14U team and the existing 16U team will be held at McLean High School on Aug. 17 from 3 p.m. to 5 p.m. For questions about the 14U team, contact Damian Rodriguez at 703-774-5361. The 16U contact is Eric Snyder at 703-926-6950.
<b>George C. Marshall</b> High School recently announced Joe McDonald as it's new head baseball coach. McDonald was the head baseball coach at McLean High School from 2000 through 2005. He was named Liberty District Coach of the Year in 2004.
<b>McLean Youth Soccer</b> (MYS) is accepting late registrations for the Fall season on its league website at www.mcleansoccer.org for its recreation program for players ages 5 to 19. TOP Soccer, the program for children with special needs, welcomes new players too.
The season will begin Sept. 8 and run through mid-November. For more information, contact the MYS Administrator at admin@mcleansoccer.org or
call the MYS Office at 703-506-8068.
<b>The Patriot Dive Club</b>, which trains at George Mason University, recently won the AAU Diving Nationals. There were around 70 teams from all over the U.S. that competed. The head coach of the Patriot Dive Club team is Roland McDonald. Gold medal performances were turned in by Bryan Bahr, Cory Bowersox, Ian Bryce Shelton and Briggy Imbriglia. Other top divers included Lisa Faulkner, Kelly Stockton, Hailey Fisher and Andrea Sawchuk. All of the team's divers are from the Northern Virginia/Fairfax County Area.
<b>Correction</b>: The picture on page 12 of last week's Vienna Connection newspaper was of Oakton head football coach Joe Thompson, not Langley coach John Howerton.