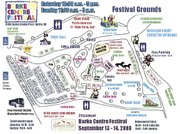 Residents from the Burke community and beyond can look forward to a weekend of games, rides, cotton candy and wine as the Burke Conservancy hosts its 31st annual fall festival Sept. 13-14.
The festival, which will take place at 6060 Burke Centre Parkway, is expected to draw between from 5,000 to 10,000 people for the two-day event.
Patrick Gloyd, executive director of the Burke Centre Conservancy, said that returning festival goers can expect to see a setup similar to those in previous years with a few minor additions. Mainstay activities like amusement rides, moon bounces, face painting, live bands and a late night wine garden will be available to the public along with traditional festival food like funnel cakes and cotton candy.
Gloyd said the Conservancy was dedicating most of its resources to hammer out the logistics in the weeks preceding the massive event.
"It's all hands on deck in terms of the Conservancy staff," he said.
Six shuttle bus locations stationed along Burke Centre Parkway will provide free transportation to the event. The stops, all intersecting the parkway, are located at: Fairview Elementary School on Ox Road, Oaks Community Center on Oak Leather Drive, Landings Community Center on Cove Landing Road, Terra Centre School on Burke Centre Parkway, Ponds Community Center on Burke Pond Lane and Burke School on Burke Lake Road.
NEW TO THIS year's festival will be the addition of misting tents, pet care and recycling stations. Also new is the addition of a showmobile: a shaded, mobile stage provided by Fairfax County for the festival's lineup of live entertainment.
In previous years, said Nancy Sherman, administrator coordinator for the Conservancy, the shows took place in a parking lot in the middle of a day. Performers faced the discomfort of the summer's sweltering sun mixed with the pavement's heat absorption. Conservancy officials said they did not think that will be an issue this year.
Businesses, both large and small, have donated money and provided various activities at the event itself. Cox Communications has set up a mobile theater unit to run cartoons, Great Harvest Bread will be selling pizza, Commonwealth AMG is sponsoring face painting and the Burke Community Church is sponsoring the pony rides. Some companies, like Creative Windows, have also donated funds for the festival. The Burke Racket and Swim club will have a booth next to the rock climbing wall. Sherman said the club would provide a service or activity, though it's unknown what they will have available this year.
"Last year they had body mass indexing," she said.
This year's wine garden has a new sponsor. Three Fox Vineyards will offer an assortment of wine and music, with local bands Never Too Late and Rough Draught scheduled to perform. The garden will open at 5 p.m. and continue until 9 p.m.. Wine will stop being served after 8 p.m.
"It's a great opportunity after hustle and bustle of a busy day for neighbors to gather," said Gloyd. "It's cooler, it's quieter, it's just a good respite for a busy day."
The festival costs around $30,000 to stage each year. Tickets are only $1 per person, and Gloyd said that after sponsors fees, gate receipts and proceeds come in, the Conservancy expects to make at least that money back.
After this year's event is over, Gloyd said his staff of over 200 employees and volunteers will rest briefly before they begin work on their next big event: The 2009 Burke Festival.
"Literally, after the last festival has been put away, work begins on next year's festival," he said.