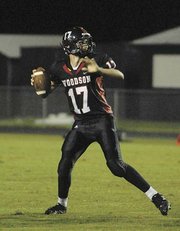 As a freshman in Clarksville, Tenn., Connor Reilly couldn't tell the difference between man or zone coverage. He didn't know what a fade route meant and a trap, in his mind at least, was probably something that involved cheese and rodents.
Stepping on the football field for the first time, Reilly, a quarterback, just soaked it all in.
"I watched, I learned," said Reilly, now Woodson's starting quarterback, of his first year playing the sport. "My freshman year was a big year for learning about football."
But as the baseball-loving son in a military family, Reilly had also learned a thing or two about uprooting. He earned the starting job on junior varsity during his sophomore season, but a family move necessitated his transfer to Woodson this past summer.
Reilly attended the team's offseason lifting and conditioning program, often staying after the workouts to develop timing and chemistry with his receivers and running backs.
<b>ONE OF THOSE RECEIVERS</b>, senior Max Waizenegger, who was the top receiving threat on last year's 5-5 team, met Reilly on the duo's summer baseball team. Immediately, Waizenegger recognized his talent.
"I'm really grateful to have him as a quarterback," said Waizenegger, who caught 11 of Woodson's 13 touchdown passes last fall. "I haven't seen a quarterback at his age that can throw the ball that well. He makes great reads, and he knows where to go with [the ball]."
Though Woodson suffered a 23-22 loss to Lake Braddock last Friday, Reilly has validated his receiver's claim. In the loss, the junior quarterback completed 16 of 25 passes for 246 yards and a 14-yard touchdown to classmate Colin Dempsey.
Coupled with a fine performance in the Cavaliers' 41-6 win over Fairfax in Week 1, Reilly has now connected on 25 of 38 passes for 376 yards and four touchdowns.
Coach Trey Taylor, who typically runs a veer-like offense which depends more on standard formations and a powerful running game, has found himself with one of the most potent and dynamic offenses in the Northern Region.
"[Reilly's] ability to throw has opened our offense up a lot," Taylor said. "That coupled with the fact that we have multiple kids who can catch the ball this year … it's good timing. We've had guys who can throw in the past, but we really didn't have anyone to throw to. We've had guys who could catch and nobody to really throw to them. So it's all coming together with lucky timing right now."
<b>THE CAVALIERS THREW EARLY</b> and often against Lake Braddock. Reilly completed four passes for 53 yards on the team's first drive, but a fourth-down pass to Waizenegger slipped through the receiver's hands.
Five minutes later, after another failed fourth-down attempt translated into a 30-yard Lake Braddock field goal, Taylor elected to emphasize the ground game. Junior running back James Johnson, who posted 109 yards and two touchdowns against the Bruins, capped an 80-yard drive with a 3-yard touchdown run.
The Bruins would answer with another touchdown before Reilly connected with Dempsey to give the Cavaliers a 14-9 lead at the break.
"The fact that we can spread the ball around will help us a lot because if we can open up the running game early, that opens up the pass," Reilly said. "Or if we open up the passing game early, it opens up the field for running."
Woodson's offense generated a third touchdown on its first drive of the second half, a 16-yard run from Johnson. However, an inability to stop the Bruins on third down led to the loss.
"We played pretty well," said Taylor, whose team will travel to McLean on Friday. "We just had some major breakdowns at very important times that led to our demise."
Taylor will have his team ready to go against the Highlanders, but it was another coach, Lake Braddock's Jim Poythress, who provided perhaps the best coaching assessment.
"[Woodson] was pretty daggone good," Poythress said. "They had some pretty tough kids. And I'll tell you what, I was very impressed with that quarterback."