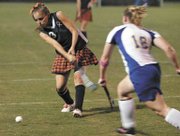 With less than 23 minutes left in a non-district game at Robinson on Monday night, West Springfield field hockey coach Shannon Matheny, crouched down and encircled by her team, didn't mince words.
Matheny chided her group of forwards for playing "selfish" field hockey, which essentially meant that they were not moving in front of the cage and working to get in position to score. Instead, Matheny's forwards were parked in front, waiting for that goal to come to them.
Out of the timeout, the Spartans apparently heeded Matheny's advice. West Springfield executed its sixth penalty corner perfectly, a play that resulted in sophomore Danielle O'Brien's ninth-career goal.
"It was exciting to hear the noise of the goal going into the [cage]," O'Brien said.
"I think sometimes they started focusing on, 'I need to score, I need to score,' and I think that's all they focus on instead of opening up and seeing the field," Matheny said. "You have to create space."
O'Brien's tally came with 21 minutes, 40 seconds left in the game and was the result of a pass from senior Jessica Gonzalez. However, Robinson answered O'Brien's marker nearly 8 minutes later when LeighAnne Baxter converted from in front and the Rams walked away with a 2-1 win.
The defeat was West Springfield's first of the season. Including scrimmages, the Spartans had reeled off five straight victories, outscoring their opponents by a combined 16-1.
<b>BUT FROM THE</b> outset Monday night, Matheny felt that her team's play was sluggish.
"We can't wait for 15 minutes into the game and then decide we're going to start playing as a team," said Matheny, whose team played host to Jefferson Wednesday night, which ended after The Connection went to press. "We have to come out from the beginning and play strong. We have to play smart. We have to play together, and that's my big focus for this year."
After the first half, Robinson held a decisive 7-4 advantage in penalty corners, though the two teams were tied with six shots apiece. In total, Robinson took 10 penalty corners to West Springfield's seven, while the Spartans outshot the Rams, 8-7.
With the graduation of eight seniors — seven of whom were starters — Matheny has turned to a relatively inexperienced senior class this season. West Springfield, who'll compete with Lake Braddock, Annandale and South County for the Patriot District crown, has kept it pretty simple so far this season.
"We take it one game at a time, and we'll look at what we need to work on after tonight," Matheny said. "The big thing I saw tonight, on free hits, my girls were not moving. We weren't cutting and we weren't moving to the ball."